Not a straight forward surgical career path
Paul Anderson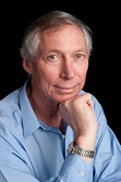 M.B.Ch.B., F.R.A.C.S., F.R.C.S. (Edin), Ph.D.MA/ Dip Tch
Consultant Surgeon
Senior Lecturer
General  & Upper Gastrointestinal Laparoscopic Surgeon, Hepato-Biliary & Obesity Surgery
Endoscopy, E.R.C.P., Colonoscopy
Chair, Specialists without Borders
My pathway to surgery was not so much circuitous, but an elongated linear path with a few lateral deviations. I always knew from a very young age that I wanted to do medicine. However, rebellion set in when I was a teenager and I was told to leave home aged 16 years. Fortunately in those days in New Zealand despite my young age, I was able to head off to university. Equipped with a lot of anger, I opted to do what I thought was the least demanding of courses, education and teaching. For me, however, there was little satisfaction in teaching others to achieve more than I had at that time.
I found a diploma course in Glasgow which had as its foundation, anatomy, physiology, psychology and kinesiology. That seemed to get me onto a more interesting track and led to a Master's Degree at the University of California; with a double major in sports medicine and sports sociology. My intention was to go back to New Zealand and lecture in sports science/sports medicine. Fate again intervened just as I graduated. A visiting professor from Stellenbosch in South Africa, offered an inaugural scholarship, so that I could do a PhD in sports medicine/sports science. 
Arriving in sports mad South Africa at the beginning of 1978, I was confronted for the first time by a racially segregated society. For a New Zealander brought up in a multiracial country, it was a significant culture shock, akin to arriving on another planet, one in which I initially wondered if I would survive on. Stellenbosch University is set in the feet of the beautiful granite Simonsberg Mountains, surrounded by the equally beautiful Paarl vineyards. Stellenbosch at the time was one of the hearts of Afrikanerdom, a university which supported actively the concept of legislated segregation. A system which to me was both an anathema and yet a curiosity. I found as I struggled to adjust that if I was to do my PhD in sports science, I would first need to set up sports science databank, as the research facilities were sadly lacking. Apartheid while repugnant was starting to fascinate me. As part of my undergraduate studies I had done extra courses in politics and American history. I asked my American supervisor whether I could change my thesis to one on Politics Race and Sport in South Africa. He said good luck with your two South African supervisors. I was very lucky or very persuasive.
The next two years of research for the thesis, provided a fascinating understanding of the concept of apartheid, its cruelty and inhumanity. My flat was raided by the security police and my phone tapped. When it came time to present the thesis, it was initially rejected as it was critical of segregation. There was one supervisor who was vehemently opposed and had refused to sign off on the final chapters. Fate again strangely intervened. 
Share your story
Your own story will assist surgeons to have a better appreciation of the challenges and opportunities that they may encounter throughout their career.
If you would like to share your story please contact the Professional Development Department by emailing career.story@surgeons.org or calling +61 3 9276 7440.