Incorporate a rich and fulfilling personal life with a broad and deep surgical career
Dr Roxanne Wu FRACS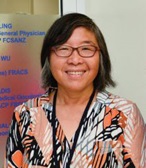 A consultant surgeon who specialises in vascular, arterial and venous diseases, shares with us how she incorporated a rich and fulfilling personal life with a broad and deep surgical career.
I graduated from Sydney University in 1979, trained at Royal Prince Alfred Hospital (RPA) in the 80's, got my FRACS in 1986 and many say that I walked away from a star career in surgery to find a balance in my personal life. I must say I never faced sexual harassment, or racial discrimination although I am Chinese and a woman but being 31 when I had my Fellowship (young by today's standards), I wanted to have a family and I was worried about having no prospects in sight.
I therefore quit my job as senior registrar at RPA and did a locum in surgery in Papua New Guinea, then another locum in Cairns where I started a practice in General Surgery in 1987. Cairns was a medical "outpost" in those days, no CT scanner, no ICU, not even air conditioning in the surgical ward of the public hospital, and no vascular surgeon. As I had done quite a lot of vascular work, and almost a year of cardiac surgery, I did an amazing amount of vascular surgery and was a welcome addition to the surgical workforce.
When I arrived, I was amazed to be asked to put AV fistulas into 20 year old indigenous patients, and I asked why it was that there was so much of this, along with a truly tragic rate of amputations in relatively young people. A renal physician came to Cairns in 1991, and Cairns went from having no dialysis unit, to having the second largest unit in Queensland in no time at all, with a parallel explosion in need for vascular surgery. This problem of severe diabetic complications of diabetes in young people has still not been adequately addressed.
I had two children, lived in a rural place about 80km from Cairns for a few years, but never stopped running a very broad general and vascular practice based in Cairns and several district hospitals including Mareeba, Atherton and Innisfail. I set up a program to perform endovascular AAA repair in Cairns in 2000, and we now are able to perform EVAR, FEVAR (with support), TEVAR etc. My daughter is about to graduate in Medicine from James Cook University (JCU), and my son is a law student at Australian National University. For many years, I was secretary of the regional swimming association, and was actively involved in organising and running competitive swimming events here and in Brisbane. 
Since 2006, I have improved my skills in endovascular surgery, and in 2013, I decided to stop performing general surgery altogether, and now only practice in vascular and (increasingly) endovascular surgery. Mind you, I still do parathyroidectomies for the renal unit (a growing demand since the government stopped allowing the use of Sensipar).
Share your story
Your own story will assist surgeons to have a better appreciation of the challenges and opportunities that they may encounter throughout their career.
If you would like to share your story please contact the Professional Development Department by emailing career.story@surgeons.org or calling +61 3 9276 7440.