Information for CPD Activity Providers
RACS recognises the importance of surgeons undertaking a broad range of education activities. Education providers can apply to RACS for recognition of their activities within the CPD program.
CPD Approved Activities Overview
RACS can approve continuing professional development (CPD) approved activities that represent a quality benchmark for Fellows and ensures that the content of an activity is relevant to the learning needs of surgeons.
Fellow attendance contributes to meeting their annual continuing professional development (CPD) requirements. Further information is contained within the RACS Continuing Professional Development Approved Activities Guide. (PDF 3.59MB)
Activities with CPD approval may include:
Conferences
Courses and workshops - clinical and/or non-technical
Meetings
eLearning
Audit
CPD Framework Overview
The renewed CPD Program comprises four categories and participants must complete a minimum requirement in each category to reach CPD compliance:

Fellows are required to participate in the CPD program annually and 50% of their CPD must relate to their Area/s of Practice (scope of practice).

Further information regarding the framework of the RACS CPD program can be found below.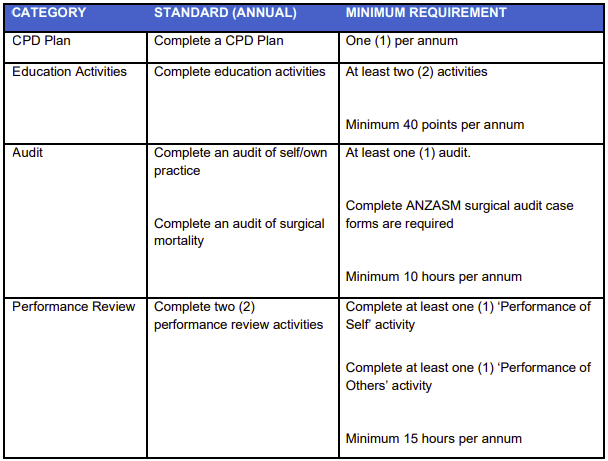 Benefits of CPD approved activities
Authorised to advertise the activity as 'RACS CPD approved activity' to participants
Use of the RACS approved logo
Fellow attendance is automatically populated to their CPD record by the Provider
The CME Provider portal will allow you to securely manage your CME applications and approved activities online.
How to apply for CPD approved activities
1. Go to RACS Provider Portal (Log on with existing RACS profile OR for first time users "Create Account")

2. Contact cme.approval@surgeons.org with details of your organisation for first time users

3. Complete the "New application"

4.Ensure all fields and appropriate documentation are complete
Submit your application
Important information to note:

• Approval is valid for one year where content is static. Activities with changing content are approved for that activity only.

• All activity dates must be included in the portal - additional activity dates can be added throughout the approval period.

• The provider must upload Fellow attendance information within two weeks of the activity being completed. Failure to upload attendance data may result in approval being discontinued.
The approval process
All applications will be reviewed by RACS to ensure activities meet the required educational standards and criteria, and to verify that the teaching methods, learning aims and outcomes, and evaluation tools are educationally sound.
The Guide to CPD approved activities manual (PDF 2.05MB) (PDF 2.05MB)assists providers with planning activities and explains the criteria required for approval.
Contact
Enquiries can be directed to:
Senior Program Coordinator - Professional Standards
Royal Australasian College of Surgeons
College of Surgeons' Gardens
250-290 Spring Street
East Melbourne VIC 3002 Australia
Telephone: +61 3 9249 1166
Email: CME.Approval@surgeons.org