Managing my CPD
CPD Online is available to you to help you manage and track your CPD. Here you will find videos and information about how the program is personalised to meet your learning needs.
CPD profiles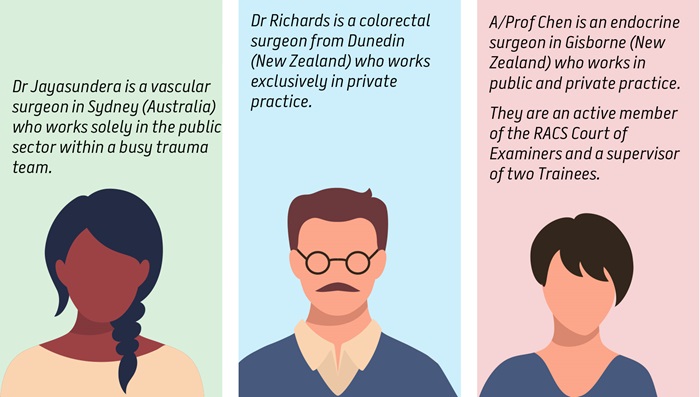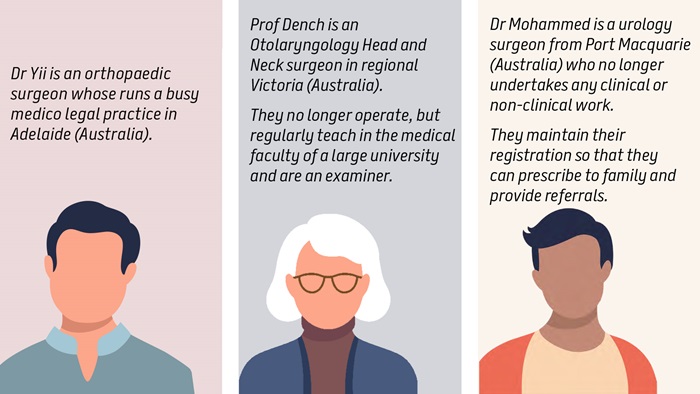 Approved CPD activities
There are huge advantages to undertaking your CPD activities through RACS approved and delivered courses. They include:
Quality controlled training and assessment processes
Guaranteed compliance with RACS standards and policies
Automatic record of activity into your online CPD profile
Reduced time, effort and paper handling
Effortless and instant verification audits
RACS will continue to update attendance in CPD Online for CPD activities delivered by RACS or approved by RACS. Attendance at activities that have been automatically updated in a Fellow's CPD Online will also be considered automatically verified.
Other approved programs
Participation in professional development programs offered by other specialist medical colleges and associations may be deemed equivalent to meeting RACS CPD Program requirements. To be deemed equivalent, programs must first be approved by the Professional Standards and Fellowship Standards Committee (PSFSC).
Fellows who choose to participate in an alternative CPD Program approved by RACS are not required to also participate in the RACS CPD Program. On receipt of evidence of compliance with another approved CPD Program, Fellows will be recorded as having completed their CPD requirements.
The CPD programs that have been approved by the PSFSC and deemed equivalent are:
Australian Orthopaedic Association
New Zealand Orthopaedic Association
Royal Australian and New Zealand College of Ophthalmologists
Fellows who wish to participate in other professional development programs or who are participating in a program that is not listed above are advised to contact the Professional Standards Department.
CPD learning cycle
The CPD Program continues to be based on a continuous cycle of learning with a focus on planning, participation, measuring outcomes, reflection and change.
Specialist International Medical Graduates (SIMGs) on a pathway to Fellowship
Specialist International Medical Graduates (SIMGs) are overseas trained doctors who hold formal postgraduate specialist qualifications in surgery and who are seeking to practice in Australia or Aotearoa New Zealand. In Australia, SIMGs seeking to have their postgraduate qualifications and experience recognised must apply to RACS for assessment.
SIMGs on a pathway to Fellowship must complete CPD in accordance with their supervision period as advised by RACS.
Specialist International Medical Graduates and non-FRACS surgeons
Specialist International Medical Graduates (SIMGs) or non-FRACS who hold appropriate postgraduate qualifications but who are not seeking to become a Fellow of RACS can participate in the RACS CPD Program on a subscription basis. 
Participation in the RACS program meets registration standard requirements for the Medical Board of Australia and Medical Council of New Zealand.
Surgeons who enroll in the RACS CPD Program are required to meet the same requirements as RACS Fellows and have access to range of resources that supporting CPD participation including the RACS Library, Morbidity and Mortality Logbook Tool and online learning tools. 
Surgeons who wish to register for the program may do so using our
Maintenance of Professional Standards (MOPS)
Please register for the RACS CPD program by using our online form.