Scholarships, grants and awards
RACS offers Trainees a number of scholarships, grants and awards.
John Corboy Medal
Dr John Corboy (1969-2007) was elected chair of the RACS Trainees' Association in 2007. He was a great leader and a selfless representative of RACS Trainees. He generously gave his peers his time and wisdom. His energetic service to the profession and his tenacious passion for surgery despite personal adversity was remarkable.

This prestigious award for surgical Trainees commemorates Dr John Corboy's achievements and recognises exceptional service by other Trainees. The John Corboy Medal is awarded annually to a Trainee who demonstrates the characteristics for which John was admired.

The award is made to a candidate who shows some or all of the following qualities:
Outstanding leadership
Selfless service
Tenacity
Service to trainees of the College
These qualities must be demonstrated in either the performance of his or her duties, service to the surgical community, the manner of and approach to the fulfillment of their surgical training and/or by their commitment to and involvement with the community of surgical Trainees.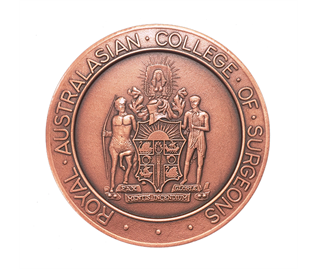 John Corboy Medal nominations
Nominations for the 2021 John Corboy Medal are now open.
The winner of the Medal will:
Be formally presented with the Medal at the 2021 RACS Annual Scientific Conference (ASC).
Be listed on an Honour Board housed in the RACS Melbourne Office.
Be listed in the Distinguished Award Recipients section of the RACS website.
Receive complimentary registration to the ASC.
Winners will be notified once the selection process is complete and a formal announcement will be made shortly after.
Find out more about the John Corboy Medal.
Find out more about other RACS scholarships, awards and grants.