Annual Scientific Congress communication resources
On this page you'll find links to marketing resources to help you promote the 2021 RACS Annual Scientific Congress (ASC), how to create local hubs and FAQs.

The 2021 RACS Annual Scientific Congress
With the uncertainty of restrictions on gatherings, the 2021 ASC will be a hybrid event. We envisage running the traditional ASC at the Melbourne Convention & Exhibition Centre with the maximum participants allowed. Supporting the Congress at the MCEC, the ASC will be live-streamed and on-demand to all those unable to travel and attend. Local hubs will be formed in major cities and regions in Australia and New Zealand, and other countries, to watch the ASC.
Facebook profile picture frame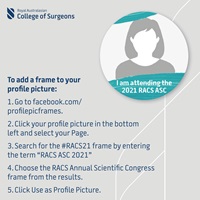 To add a frame to your profile picture:
Click your profile picture in the bottom left and select your Page.
Search for the #RACS21 frame by entering the term "RACS ASC 2021"
Choose the RACS Annual Scientific Congress frame from the results.
Click Use as Profile Picture.
Alternatively, visit https://bit.ly/3nNu0zs to select the RACS21 Facebook frame.
Setting up a hub
Forming a hub is a fantastic way to bring your colleagues together to participate in the RACS ASC 2021 as a group. You can watch your surgical specialty sessions together, watch the plenaries and the named lectures together, the sessions of interest together, or even create your own schedule and invite your colleagues.
Visit the ASC website for more information.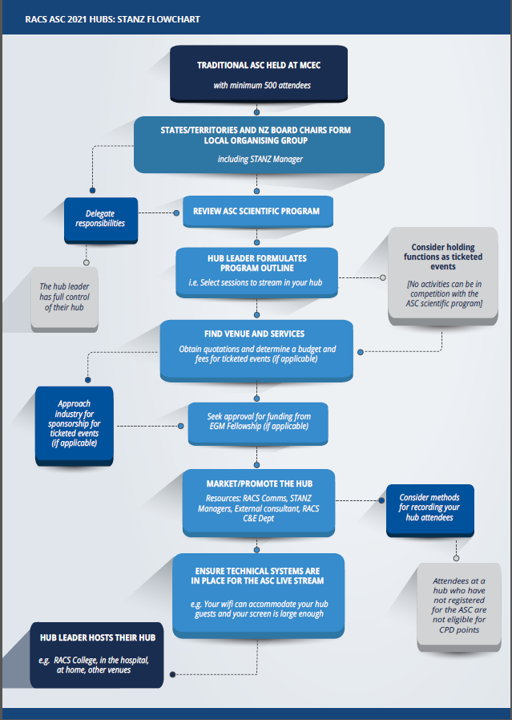 Frequently Asked Questions