Further reading
Additional information from the Fax Mentis e-Newsletter.
RACS attends Medical Society of Papua New Guinea Medical Symposium
Our Global Health team attended the Medical Society of Papua New Guinea's 55th Medical Symposium in Port Moresby this month, hosted by the University of Papua New Guinea (PNG). The theme of the meeting was Health Education.
The meeting was an excellent showcase of the clinical leadership which already exists and is flourishing in PNG. The future is bright with the next generation of specialists coming through, with many Fellows and RACS Global Health volunteers alike supporting continuing professional development in the country as part of RACS' commitment to Global Health.
The surgical community in PNG has held a long-standing relationship with RACS. RACS Global Health manages the Australian Government funded PNG Clinical Support Program, which sits under the PNGAusPartnership investment in health.
Welcome to our Education department heads
By Professor Julian Archer MRCPCH, MEd, PhD, FAcadMed, FHEA 


Executive General Manager for Education
Following a recent regrouping in our education portfolio, I warmly welcome our new education leaders – Philippa Davis, Head of Education Services; Dr Tamsin Garrod, Head of Research and Innovation; and Veronica Vele, Head of Training Services.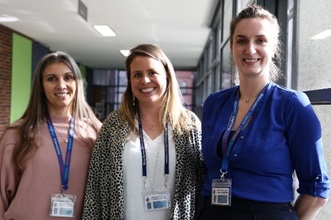 L-R: Veronica, Philippa and Tamsin
Dr Tamsin Garrod (previously manager of Research and Academic Surgery with RACS in Adelaide) will employ her extensive research and business experience to focus on driving innovative research within surgical education training at RACS.
Tamsin is responsible for the development (in partnership) and evaluation of all educational activities of both the College and its partners. This includes the evidence base for the College's accreditation with the Australian Medical Council and the Medical Council of New Zealand. I am also looking to develop greater links with leading universities to strengthen the capacity for surgical education research at RACS.
Philippa Davis, who has previously developed and delivered training and education programs with Ambulance Victoria and the Cancer Council, is focused on ensuring best practice standards of education and takes responsibility for promoting a culture of education excellence.
RACS has historically offered a range of educational opportunities in support of life-long learning for surgeons as pre-vocs, Trainees and Fellows. Philippa has oversight of all the educational offerings at RACS including assessments. An Operations Manager, Examinations, has also been recently appointed to strengthen this area.
Veronica Vele, who has more than 15 years' experience in medical education (most recently from the Australian Council for Education Research), takes primary responsibility for effective management of our Surgical Education and Training program and providing support to our Surgical Training Boards.
RACS oversees a devolved model of educational delivery in partnership with specialty societies. In order to better support and quality assure this model, the new Training Services group oversees all activities in surgical training from selection, better supporting our Specialty Training Boards including improved oversight. This will be augmented by adjunct training programs through the Federally funded Specialty Training Programs and a broader educational offer in support of our Boards and their governance. Governance will also be supported by a further new position working with the Reconsideration, Review and Appeals Officer. They will provide the structures and processes required to swiftly respond when decisions made by RACS are challenged.
Lastly, governance and policy across the College is being reviewed and strengthened. This is focused in a new Office of the EGM Education with a governance specialist, policy architect and educational advisors working to support the Education Portfolio and in collaboration with others across the College.
For an overview of Education's regrouped structure, please review our portfolio chart below.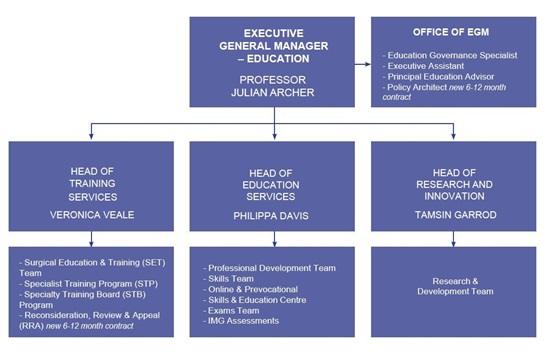 For further information, please contact Professor Julian Archer, EGM of Education.