2023 | Volume 24 | Issue 2
Dr Carlo Pulitano: recipient of the 2022 John Mitchell Crouch Fellowship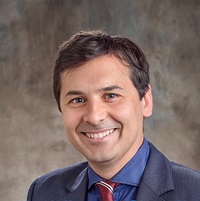 Dr Carlo Pulitano is a recipient of the 2022 John Mitchell Crouch Fellowship, the most prestigious scholarship of the Royal Australasian College of Surgeons (RACS).

An upper gastrointestinal, hepatobiliary, and transplant surgeon in Sydney, Dr Pulitano said the Fellowship has contributed to the pathbreaking technique he and his team have developed—to keep organs alive for up to two weeks through a new technology.
Born in Italy, Dr Pulitano undertook six years of surgical training in Milan (Hospital San Raffaele), Paris (Hôpital Beaujon), and Edinburgh (Royal Infirmary of Edinburgh) before obtaining his General Surgical Fellowship in 2010. He took up a clinical Fellowship at Royal Prince Alfred Hospital in Sydney in 2011 and completed a PhD at University of Sydney on the complex microcirculation of the liver.
The search for more in-depth training in complex surgery led him to a second Fellowship in hepatobiliary and transplantation surgery at the Toronto General Hospital in Canada. On completion, he joined the Royal Prince Alfred (RPA) Hospital, Sydney in 2018, as a consultant and as an associate professor at the University of Sydney.

That was when Dr Pulitano decided to put into use the new surgical laboratory attached to the RPA unit. Having been involved in research since his medical student days in Milan, Dr Pulitano always wanted to do something new.

With encouragement from Dr Michael Crawford, head of the RPA's Transplant, Dr Pulitano started an ambitious project. He established the RPAH Translational Center for Organ Assessment, Repair, and Optimization. It's a combined unit between the hospital RPA and the University of Sydney.

The goal was to surpass what the current technology offers and keep an organ alive not just for hours but for days and even weeks. "It was completely new," Dr Pulitano said.
The RACS Fellowship helped him invest in employing a few young bioengineers who developed the system of preserving organs through the use of complete automatics and functions controlled by artificial intelligence.

"So far, we are very happy. A complex system like this can take years to develop but we are close to starting a clinical trial by using this machine," Dr Pulitano said.

"We have also been extremely lucky to get the highest research award from the International Liver Transplantation Society (ILTS) two years in a row—last year and this year."

As the only centre in the world to have achieved this feat of keeping an organ alive for up to two weeks, Dr Pulitano said his team at the RPA's Transplant Center is also working on gene therapy and other regenerative treatment to modify and repair organs.

"Long-term normothermic machine perfusion may be used in the future as a dynamic platform for regenerative medicine approaches, enabling repairs and regeneration of injured donor livers," Dr Pulitano said.

The other important benefit is cost reduction. "Liver transplantation remains one of the most challenging and resource-intensive surgical procedures. It is commonly performed as an urgent procedure outside of regular hours. Our automatic system could enable it to become a schedulable procedure to minimise staff burnout and increase safety."

Dr Pulitano's interest in upper gastrointestinal and liver transplantation stemmed "naturally". As a medical student, the liver unit was part of his rotation where he was involved in research projects, some of which were very successful. "Though there was no interest in pursuing surgery at the time, I changed my plan as I got interested in liver surgery. It's a very interesting organ in terms of complexity in surgery and management."

He believes Fellowships such as RACS are impactful. "A scholarship is always good for your career. You develop management skills, get a budget which you can use, and develop a leadership position within your field."

Despite a full schedule and a young family consisting of his wife and three children, Dr Pulitano is now dabbling in his new hobby—carpentry. "There is not a lot of time, but I love the creativity."
RACS offers a range of scholarships and grants annually to support research, learning and development through its Scholarships and Grants program.

To find out more visit www.surgeons.org/scholarships