2023 | Volume 24 | Issue 2
Improving lives in the Indo-Pacific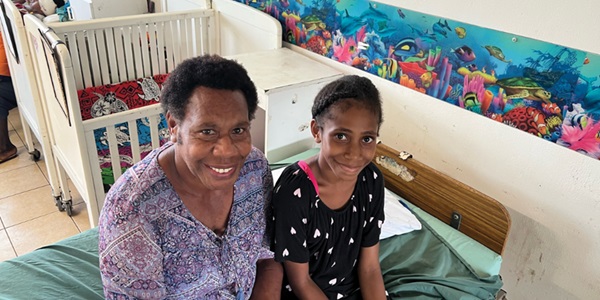 Image: Rebecca with Melinda
RACS Global Health is providing ear, nose and throat surgeries in the Indo-Pacific.
The World Health Organization (WHO) estimates that 466 million people globally have significant hearing loss, a figure set to double by 2050. Ear disease, such as otitis media, and hearing loss can have significant consequences on individuals, affecting communication, language development, educational opportunities, and employment choices. It may also contribute to social isolation, cognitive decline, and depression. Inclusion is one of the major factors facing education systems in the Indo-Pacific region.

Although girls face more barriers in accessing primary education in the Pacific region, once enrolled, they are more likely, than boys, to progress and complete primary education and higher levels of education (UNESCO Bangkok Office, UNICEF & UNGEI, 2018a, p.4).

RACS Global Health Visiting Medical Teams aim to directly contribute to enabling inclusion of women and girls, men and boys in their community by increasing access to health and surgical services.

In February this year a team of volunteer Fellows and health specialists lead by Dr Daron Cope and Dr Sor Way undertook life-changing procedures on more than 200 patients in Vanuatu to receive ear, nose and throat procedures at Port Vila Central Hospital. This included critical onsite training and mentoring of national clinical staff.

The Visiting Medical Team (VMT) undertook extensive clinical and surgical work including grommet insertions. This procedure can significantly improve hearing that has been lost due to fluid build-up behind the eardrum and allows the middle ear fluid to drain. This helps the person to then hear better.

Four-year-old grommet patient Long said she, "wanted to hear better" and for her mum Dennie, "it will be so much better for her in kindergarten so she can hear her friends, talk, and play with them like all kids do."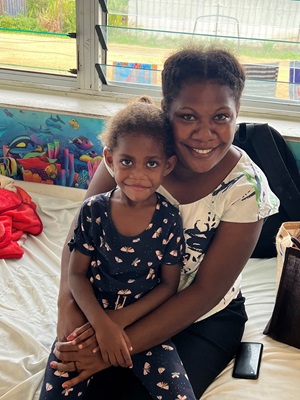 Image: Dennie and Long

For 13-year-old Melinda, "sometimes it was difficult to hear the teacher at school" and that she "wanted to get back to be able to her schoolwork properly." Her grandmother, Rebecca who was supporting her on the day of her surgery commented, "her hearing is so important, so she can learn!" She thanked the RACS team for supporting the girls of Vanuatu.

The RACS Global Health Visiting Team was supported by audiologist Dr Chessie Egan. She said, "the national team do an incredible job supporting audiology services in a resource-limited setting. There is great potential in growing the development of a national preschool training program." Chessie screened and performed audio-metric assessments on 60 plus patients, most of whom had a mixture of permanent, preventable and reversable hearing loss.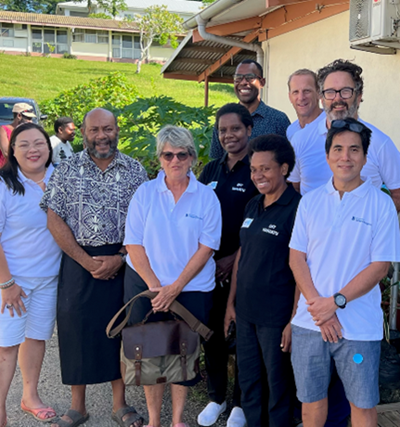 Image: Chessie Egan (audiologist), Dr Vincent Atua (medical superintendent), Sandi Coutts (registered nurse), Esline Napu (registered nurse), Samuel Kemmel (surgical registrar), Dr Daron Cope (ENT surgeon), Andorine Aki (ENT charge nurse), Dr Tom Bookallil (anaesthetist), Dr Sor Way Chan (ENT surgeon).

For ENT surgeon, Dr Daron Cope, the most rewarding experience was a large thyroidectomy undertaken on a 38-year-old woman and "being able to ensure she can breathe and live a comfortable life." A challenge for Daron was assessing a five-year-old boy with congenital hearing loss who now has significant barriers to being able to communicate due lack of access to hearing implant provision. This barrier to inclusion is further compounded by a lack of sign language education.

ENT surgeon, Dr Sor Way Chan, added "being able to work with (national surgeon) Dr Samuel Kemmel to further foster his interest in ENT surgery provides him an opportunity to train so he can continue to provide valuable ENT services in Vanuatu. This is a drop in an ocean when we see what comes through the doors and it's important to continue to provide support to VMTs to ensure development of national clinicians and sustainable ENT care for future national ENT surgeons. There is a Chinese proverb 'Instead of giving a person fish, you can teach them how to fish' and that is what we do."

For anaesthetist, Tom Bookallil, "the combination of being part of a team that provides definitive surgery that is life changing while working with national clinicians makes the process really worth doing." He added that the national anaesthetic team was excellent, and the trip gave him an opportunity to participate in a cultural and personal learning exchange that he will value for life.

RACS Global Health VMTs volunteers provide service delivery and specialist training to 11 Pacific Island countries across the Indo-Pacific region. This is due to funding from the Australian government and the Department of Foreign Affairs and Trade (DFAT) under the Pacific Clinical Services and Workforce Improvement Program (PCSWIP).