2023 | Volume 24 | Issue 4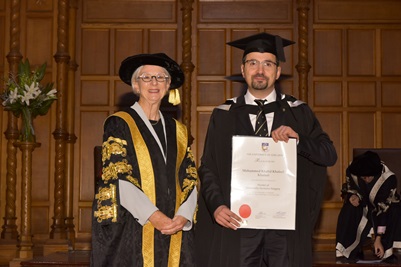 A recipient of the 2022 Rural Surgery Fellowship for Provincial Surgeons Grant from the Royal Australasian College of Surgeons (RACS), Dr Mohammed Khaleel is an Australian-trained surgeon with a special interest in Hepato-Pancreatico-Biliary (HPB) surgery.
His career has been greatly influenced by his great passion for anatomy. He used the grant to successfully pursue and complete his Master's degree in minimally invasive surgery (MMIS) at the University of Adelaide.
During his studies, Dr Khaleel had the opportunity to contribute to an education and research project focused on evaluating an educational module for laparoscopic cholecystectomy techniques at Ballarat Base Hospital, Victoria.
"My project evaluates a focused educational module for obtaining a critical view of safety during laparoscopic cholecystectomy," Dr Khaleel says.
Driven by his interest in minimally invasive and robotic surgery, Dr Khaleel played a significant role in the early stages of implementing a robotic surgical system at his hospital, further enhancing its capabilities in advanced surgical techniques.
He believes that these innovative approaches have the potential to revolutionise surgical procedures by reducing complications. These include surgical site infections—through smaller incisions—shorter hospital stays, and faster recovery, thus lowering costs.
Dr Khaleel believes that the RACS scholarship presents a valuable and equitable opportunity.
He says, "Various types of scholarships are available to suit individual needs. If you intend to pursue a Master's or PhD or work in regional or remote areas, there are numerous options to explore. These scholarships provide a great avenue to concentrate on your research and pursue advanced degrees.".
Dr Khaleel's journey in medicine began during his time as a student at the College of Medicine, University of Baghdad, where he developed a passion for surgery while studying human anatomy and appreciating the intricacies of the body's systems.
The challenges he faced during the American invasion of Iraq in 2003 strengthened his determination to become a surgeon as he witnessed the transformative impact surgical interventions—even with limited resources—could have on individuals in need.
"We experienced mass casualties, which made me versatile and deeply committed to helping those in need, becoming a beacon of hope amid numerous traumas," he recalls.
After starting his surgical training at Al-Kindi Teaching Hospital in Baghdad, he later moved to the United Arab Emirates for safety reasons.
In 2009, he relocated to Australia. "I started from scratch undertaking all my training once again."
While working as a junior surgical doctor at Western Hospital, Dr Khaleel developed a strong interest in HPB surgery.
"I enjoyed the complexity of the cases, the pathology, the complex operation, the multi-disciplinary approach of the problems, and I was influenced by very experienced surgeons, who still are my mentors," he says. So, he decided to pursue a career in general surgery with special interest in HPB and upper gastrointestinal (UGI).
Building on his dedication, Dr Khaleel continued his surgical pathway in Adelaide, working at the trauma unit of the Royal Adelaide Hospital.
Subsequently, the experiences gained here propelled him forward, paving the way for his entry into the rigorous general surgical training program.
"For family reasons, I decided to relocate back to Melbourne," he says. He returned to Western Hospital, where he completed his Fellowship in General Surgery.
Following this, he worked as a general surgeon with a focus on HPB and upper gastrointestinal (UGI) surgery in Ballarat.
Dr Khaleel then gained further advanced skills in HPB surgery by working at renowned institutions such as the Alfred and Austin hospitals.
Currently, he serves as the HPB and Liver Transplant Fellow at Austin Hospital, treating a wide range of liver, gall bladder, and pancreas pathologies.
Despite the demands of his profession, Dr Khaleel recognises the importance of maintaining a work-life balance. He values spending quality time with his family and friends, who have supported him throughout his journey. Additionally, he enjoys engaging in outdoor activities such as cycling, camping, and fishing.
RACS offers a range of scholarships and grants to assist Fellows and Trainees with research, learning and development. Find out more: www.surgeons.org/scholarships