2023 | Volume 24 | Issue 4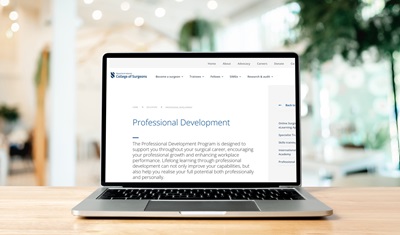 The College has launched a revamped Professional Development webpage.
The updated page offers a range of continuing professional development accredited activities that align with the RACS competencies. As Fellows, Trainees and Specialist International Medical Graduates, you are invited to explore the new webpage to determine which learning opportunities might be right for you.
The Operating with Respect course is one of the ones included in the webpage. This full-day face-to-face course is designed to deliver advanced training in recognising, managing and preventing discrimination, bullying and sexual harassment. This will help surgeons create a safe, respectful workplace culture that positively impacts Trainee learning and improves surgical care.
The course provides participants with practical strategies and skills to respond appropriately to unacceptable behaviour. It also promotes reflection and self-awareness, challenges common biases, assumptions and erroneous views, and is delivered by experienced and skilled faculty.
We will soon be launching a new online course —Introduction to Operating with Respect. This one-hour course explores how to recognise and address unacceptable workplace behaviours, including discrimination, bullying, sexual harassment and microaggressions. It is a prerequisite for application to Surgical Education and Training, and can be revisited for your professional development, or as a refresher ahead of the full-day face-to-face course.
We encourage all RACS members to visit the webpage.
Please contact the Professional Development team if you have any questions or wish to discuss professional development opportunities.