2023 | Volume 24 | Issue 4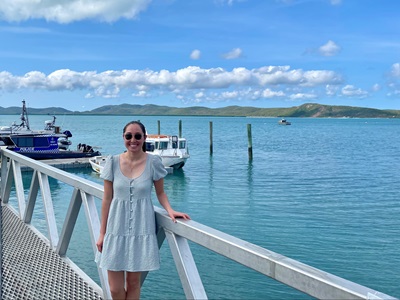 Dr Helen Buschel
On a ferry going to Thursday Island, Dr Helen Buschel thought about how the waves used to make her seasick. Now on her third trip to the island, she reflects on the journey she's taken so far since starting her surgical training. She's learned so much about the Indigenous communities she's connected with in the amazing places she's visited as part of outreach. And it seems there's a lot more to discover.

Dr Buschel is a Queenslander who grew up in rural Malanda and Cairns. She went to medical school in Townsville and did her training in Cairns. She had plans to spend an intern year in Brisbane or another major city but got balloted to a familiar place—Townsville. She enjoyed it so much that she ended up staying for four years.

From her experiences of medical school to surgical training, going to remote locations for outreach activities was familiar yet different each time. As a Surgical Education and Training (SET) Paediatric Surgery Trainee in Townsville, Dr Buschel still looks forward to spending a day or more doing outreach clinic on the islands. "It's really good to see where people are coming from, their communities and to see what their normal situation is like."

Dr Buschel also found that doing outreach clinics come with certain perks—getting to see scenic places in Australia. "While doing my morning run on Thursday Island, I had to stop constantly and take lots of selfies because it's so beautiful up there, the blue water is so amazing." As an intern visiting Palm Island, she went snorkelling and saw the most incredible underwater views while managing to avoid a crocodile or a shark!

What struck her most though was the local community's culture. In addition to discovering the meaning of flexible 'island time', she also witnessed a different way of healing. "As a medical student, I remember a young girl who was really sick, and her entire family of 20 people came into the room, formed a circle and started singing to her. She wasn't participating much in anything but as soon as the singing started, she sat up, smiled and started singing too."

So many opportunities arose from participating in outreach clinics. Going out to remote communities gave her a chance to see the bigger picture beyond writing doctor's orders. When she filled out a patient travel form, she didn't realise all the effort patients' families were making to travel to the hospital. "And until you make that trip yourself, it's hard to truly appreciate what those families have done."

The opportunity to cover different specialties and work closely with her supervisors was also a big drawcard for Dr Buschel. Remote outreach clinics usually involved limited access to specialist services, and this meant working on a broad range of cases and procedures herself, "so you're covering all of these specialties that in a bigger city would be covered by their subspecialty area."

If there's one thing that she wants to share with Trainees, it's simply to go for it when the chance arises. "It's worth asking the question and then just taking any opportunity to go."

She did exactly this before her trip to Thursday Island back in March and was surprised to find that everyone, including her supervisor, hospital administration and RACS were supportive of her endeavour.

In the future, Dr Buschel sees outreach as a big part of her practice as a paediatric surgeon. "I think it's preparing me really well," she says. She plans to continue her surgical training and become a Fellow, applying all that she's learned from this 360-degrees experience.
The Specialist Training Program (STP) is an initiative funded by the Australian Department of Health and Aged Care enabling specialist registrars to pursue training outside traditional metropolitan teaching hospitals. STP funding contributes to Trainees' salary, infrastructure and supervision support for private facilities as well as an allowance for rural settings to fund activities including surgical outreach. For more information, visit the STP page on the RACS website.