2023 | Volume 24 | Issue 5
This year's RACS Aotearoa New Zealand (AoNZ) annual surgeons' meeting provided the usual opportunities for education and connection, as well as an unparalleled chance to advocate for surgical services.
Surgery 2023: Surgical care in health system change ran from 31 August to 1 September in Te Whanganui-a-Tara Wellington and had a near record attendance of about 100 delegates across RACS nine surgical specialties.
The meeting was themed around the ongoing health sector reforms in Aotearoa and covered topics from robots and technology to health system change and surgical leadership.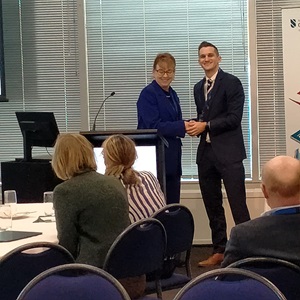 Dr Scott Bolam with Associate Professor Kerin Fielding.
The program featured leaders of the contemporary health landscape, including surgeons and other clinicians, as well as government health bosses, and public health and policy academics.
As one of the conveners, Wellington plastic surgeon Dr Chris Adams, said the event was a unique opportunity for collaboration.
"It's not often you get so many thought leaders together in one space. At a time when the Aotearoa health system is navigating a period of unprecedented challenge and change, Surgery 2023 was a chance for education, reflection and knowledge sharing."
Speakers in the first session of the conference—National Health Service: The new paradigm—included the Director-General of Health, Dr Diana Sarfati; Te Whatu Ora – Health New Zealand CEO, Margie Apa; Riana Manuel, Te Aka Whai Ora – Māori Health Authority CEO; and Duncan Bliss from Te Whatu Ora's Planned Care, Hospital and Specialist Services.
Their talks gave context to the challenges facing the health system, an overview of the vision behind the reforms and a progress update (including a sneak peek at new data dashboards that provide a national overview of treatment wait lists and theatre capacity).
More importantly, their presence gave delegates the chance to have their say about the state of the health system from an insider's viewpoint, to vent their frustrations, to challenge the thinking behind the reforms, and to offer solutions. That Health Minister Ayesha Verrall visited the conference during the lunch break of the first day (31 August), added to the sense health officials want to engage with surgeons.
Another standout session of Surgery 2023 was Improving access to surgical services, which included presentations on rural and Māori health inequities, the opportunities to grow the surgical workforce, and health equity from a primary care perspective.
Speakers provided reasons for optimism, including data from Dr Curtis Walker, Chair of the Medical Council of New Zealand, which showed the proportion of Māori and Pacific Island surgeons has doubled over the last 20 years and the number of women in surgical training has also grown.
More sobering was Dr Vanessa Blair's account of growing up and continuing to work in rural Te Tai Tokerau – Northland where locals cannot access the same level of care as those living in the cities. Her deeply personal account showed the impact on life quality and life expectancy and offered solutions including outreach and digital services that bring "fairness" back into the health system.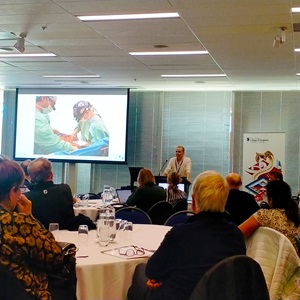 Dr Victoria Atkinson
One of the most well-received speakers was Dr Victoria Atkinson, the National Chief Medical Officer for Australia's Healthscope group. She delivered a trilogy of presentations across the two days, talking about health reform, the surgeon's role in leading change and rediscovering the "red thread".
With all the talk of change and the challenges facing Aotearoa New Zealand's healthcare system, Dr Atkinson's closing talk urged delegates to remember why they work in the surgical profession and to find energy and joy in their everyday—the red thread of healthcare.
"The joy is what creates productivity. You're more creative when you're enjoying your work."
She said it is important to remember, when going through a period of change, that people around you will respond to your energy, good or bad.
"If you think things will be ok, then you'll reassure others. That's so important. If you're not feeling the energy, you should hand over to someone else."