2023 | Volume 24 | Issue 5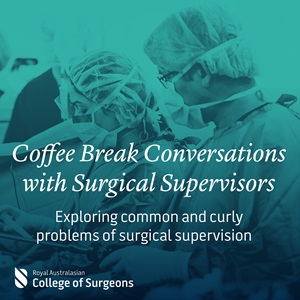 RACS has launched a new podcast series - Coffee Break Conversations with Surgical Supervisors.
This new series of podcasts has been developed to support surgical supervisors and trainers with their important role of educating and training new surgeons.
Each episode of the podcast will include conversations with RACS experienced surgical supervisors and medical educators sharing tips and strategies to address common and curly challenges of surgical supervision.
In the first episode What makes a great surgical supervisor? RACS medical educator, Catherine Hunt talks with Debbie Paltridge, RACS Head of Education Services (principal educator) and Associate Professor Sarah Aitken, vascular surgeon, Head of the Specialty of Surgery at University of Sydney, Deputy Chair of RACS Vascular Training Board, and recipient of RACS New South Wales Supervisor of the year for 2022.
If you are an experienced supervisor and would like to participate in a Coffee Break Conversations and share your tips and strategies for teaching and assessing Trainees, please contact Catherine Hunt at: Catherine.Hunt@surgeons.com