2023 | Volume 24 | Issue 5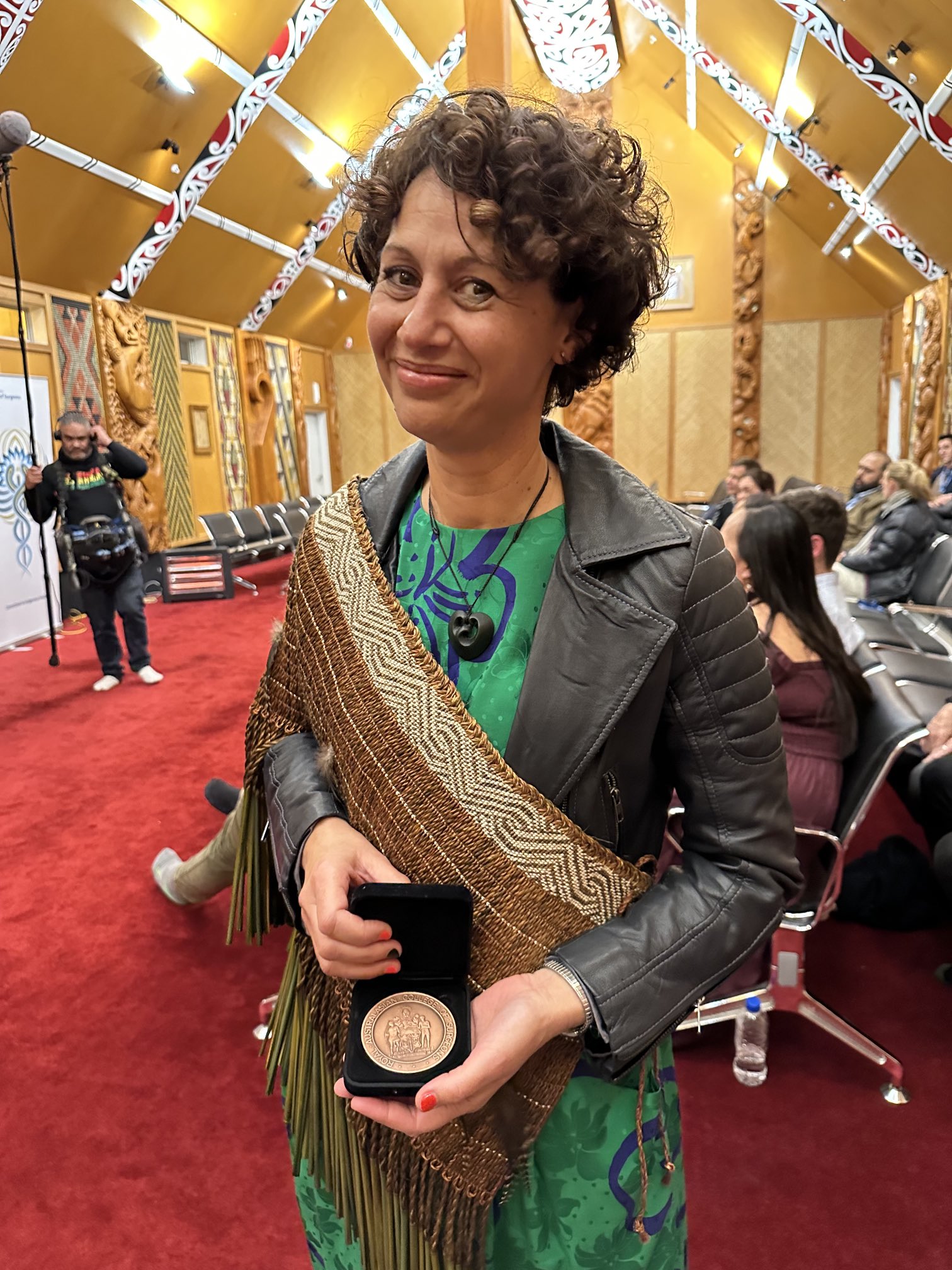 She's a well-known and much-loved Northland surgeon and now her years of "transformative" advocacy for Indigenous health equity have been recognised by the Royal Australasian College of Surgeons (RACS).

Dr Maxine Ronald (Te Kapotai, Ngā Puhi, Ngāti Hine, Ngāti Wai) was awarded the Māori Health Medal at RACS inaugural Indigenous surgeons hui held on 29 and 30 July.

She says she is "humbled" to join a list of medal recipients that includes Māori health "legends" such as Professor Jonathan Koea and Dr Ian Campbell.

"The award was a complete surprise to me. I had no idea that the committee had nominated me. They did a very good job of keeping it from me!

"Although I was stunned to receive the award, it was a beautiful moment. To receive the award in front of so many people I admire and respect in such a stunning marae—Te Mānukanuka of Hoturoa—was very moving. I was speechless and wish I had been able to think of something profound to say to thank everyone who was there for all the support and inspiration I have received from them."

The nomination citation details Dr Ronald's "sustained and transformative" efforts to increase the Indigenous surgical workforce, address health disparities and improve access to care for Indigenous populations in both Aotearoa New Zealand and Australia.

"Like all of us who are working in this space we are driven by the love for our communities and believing that our ancestors envisioned a better future for us. Health inequities are simply unfair and unjust and are not a fait accompli. We cannot accept them and must strive always to achieve the best health outcomes possible for our people. There are so many areas that we need to work on and the task can seem overwhelming, but we can all perform even small acts that challenge the systems we work in that perpetuate health inequities.

"I am so grateful for the work of Professor Papaarangi Reid, Professor Margaret Mutu, Moana Jackson, Irihapeti Ramsden and others who have articulated the framework we need to use as health practitioners to do this work that is evidence based and grounded in Indigenous principles. We were lucky to have Professor Reid and Professor Mutu speak to us at the hui. They reminded us of where we had come from and asked us to imagine what our future as Indigenous people in our own lands should look like.

"It was lovely for me to look around our inaugural hui and see so many Indigenous faces—surgeons, Trainees and prevocational doctors, and medical students—all passionate about surgery. When I was training there were so few of us pursuing a career in surgery and as Māori, we were quite isolated.

"The greatest part of the hui for me was seeing the junior doctors and medical students talking with consultants over kai and cups of tea and connecting with one another. There are many reasons why there are more of us now than a few years ago and I hope we are building a culture and an environment where Indigenous doctors can see there is a place and a need for them in surgery. This is a place where they are valued for the skills and knowledge they bring as Indigenous surgeons. My hope is that we can continue to grow our Indigenous surgical workforce and increase the number of people working to achieve health equity for our people.

"Dr Rawiri Jansen issued a wero [challenge] to our group about what we envisioned for the bicentenary of Tiriti o Waitangi in 2040 and Professor Jonathan Koea has accepted that challenge with the goal of achieving population parity for Māori surgeons. To do that we need to train 150 Māori surgeons by 2040. It is a big challenge but I believe we have a strong strategy and the combined motivation and vision to be successful. In the words of Tā James Henare: 'Kua tawhiti kē to haerenga mai, kia kore e haere tonu. He tino rawa ou mahi, kia kore e mahi tonu'. ["You have come too far not to go further; you have done too much not to do more.']."

A general surgeon working in Te Tai Tokerau, Dr Ronald has a wide scope of practice including breast cancer and skin cancer and provides vital care to patients at Whangārei and Kaitaia Hospitals.

She is an active member of RACS, serving as the first Indigenous RACS councillor, a member of the Aotearoa New Zealand National Committee, and the immediate past chair of the Indigenous Health Committee. She played a significant role in developing the Cultural Safety and Cultural Competency framework for surgical Trainees and was instrumental in the addition of cultural safety to RACS competencies.

In addition to her work within RACS, Dr. Ronald is a member of Te Ropu Whakakaupapa Urutaa (National Māori Pandemic Group) and Hei Āhuru Mowai (Māori Cancer Leadership Group), clinical advisor to Te Aka Whai Ora and a member of Te Pae Whakatere (Breast Screen Review Oversight Committee).

The Māori Health Medal was presented to her by Dr Pat Alley, a now-retired general, trauma and colorectal surgeon who was instrumental in establishing RACS Indigenous Health Committee and Māori Health Advisory Group. Dr Ally was awarded the Māori Health Medal himself in 2015.

Learn more about the Indigenous Hui.