2023 | Volume 24 | Issue 5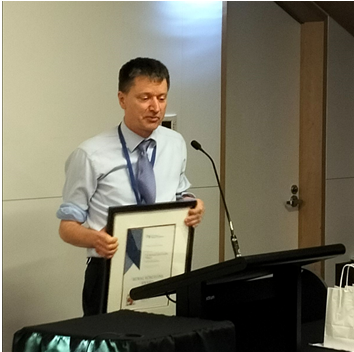 Congratulations to Dr Richard Coutts, who was presented with the Rural Surgeons award by RACS president Associate Professor Kerin Fielding at the Aotearoa New Zealand annual surgeons' meeting on 31 August.

Dr Coutts is a general surgeon who has worked in Palmerston North Hospital since 1994.His clinical repertoire is that of the traditional general surgeon—covering clinical surgery of the skin, breast, endocrine, digestive tract, abdominal, acute vascular, gynaecologic oncology, and head and neck oncology.

Dr Coutts works to improve patient care by running the regional breast screen Aotearoa program and is an active proponent of the cancer Multidisciplinary Team Meetings. He has been the lead surgeon for breast cancer and breast screening since the latter's inception in the late 1990s.

The National Trauma Network is also strongly supported by Dr Coutts. He maintains and deepens links to the quaternary trauma centre.

He is passionate about equity and fairness to all people, particularly the elderly and those who are isolated geographically. He is aware of the difficulties patients may experience travelling long distances for a surgical consultation, so instead, he travels to them. He constantly tries to solve multiple problems involving other health specialties in a single visit to aid the patients returning to health.

Dr Coutts has always been an enthusiastic teacher and mentor to countless registrars. Trainees who have passed through Palmerston North hospital remember their time fondly. He has inspired many house surgeons to pursue surgery and registrars to consider working rurally.