Australian digital health
In partnership with the Australian Digital Health Agency the College is developing a suite of tools and resources for Fellows. This work supports Australia's National Digital Health Strategy focused on digital innovation, education and workforce, enhanced models of care interoperability, data quality, medicines safety, My Health Record and secure messaging.
Digital health tools for specialist practitioners podcast
For the past two years, the RACS Younger Fellows and the Australian Digital Health Agency have been working together to explore the digital health space, looking at some of the ways in which digital innovations can enhance surgical practice. New technologies such as robotics and artificial intelligence can change the landscape of surgery and provide for drastically improved patient outcomes. Other technologies such as secure image sharing and telehealth technologies are even more pertinent in the time of COVID-19.
In this special edition podcast, RACS Fellows Pecky De Silva and Jill Tomlinson discuss the digital health space, the challenges of working in private practice, and exploring some of the potential benefits of the My Health Record. They are joined by Briana Meawad from the Commonwealth Australian Digital Health Agency, who discusses some of the innovations the agency is making in the digital health space around Australia.
Digital health toolkit
In February 2021, the Australian Digital Health Agency launched the Digital Health Specialist Toolkit. The Toolkit is aimed at providing resources to support the adoption of digital tools in private practice for specialist practitioners.
The Toolkit provides practitioners with CPD modules on digital health, printable guides, and informative videos, among other resources.
Webinars and training
The Australian Digital Health Agency are currently delivering a series of seminars for specialist practitioners, including detailed training on using My Health Record.
My Health Record
My Health Record is a secure online summary of a patient's health information and is available to all Australians. Healthcare providers authorised by their healthcare organisation can access My Health Record to view and add patient health information.
Guide to My Health Record for Australian Surgeons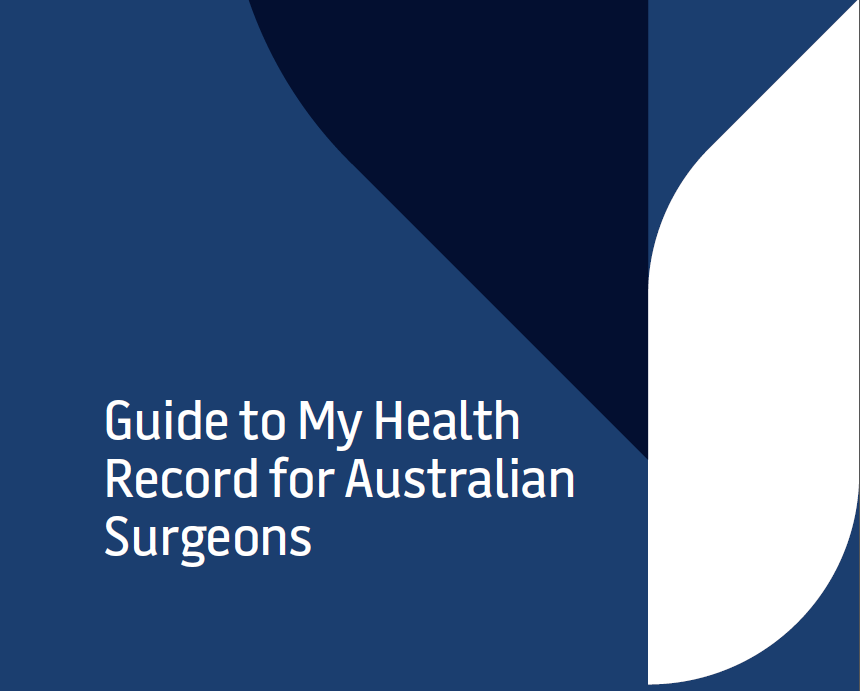 The College supports the use of My Health Record as a central repository of information that saves time for practitioners and ultimately improves patient care. In a time of innovation in digital health, maintaining a reliable source of data to improve patient care is a step in the right direction.
We have produced this booklet (PDF 2.45MB)as a way of supporting our colleagues in connecting to and using My Health Record in day-to-day practice.
Additional resources
My Health Record registration overview
RACS is currently developing a draft My Health Record Security Access Policy template to support Fellows implementing the My Health Record in their practice.
Telehealth e-prescribing webinar
Want to learn more about telehealth? This webinar recorded in June 2020 considers telehealth and electronic prescribing, risk and practical examples of telehealth in practice.
Moderated by Professor Mark Frydenberg, Chair of the Sustainability in Healthcare Working Group. Professor Mark Frydenberg highlights the working group's research proposal to understand the patients' telehealth experience within surgical practice.
RACS and digital health
RACS will be working with the Australian Digital Health Agency over the coming months to develop and improve digital health resources for Fellows. We invite Fellows to provide their thoughts on their use of digital health tools, in particular My Health Record, and feedback on any of the Digital Health Agency resources. We will also be conducting a series of interviews with Fellows to gain an in depth understanding of Fellows' digital health needs.
If you'd be interested in conducting an interview or providing feedback, please email Molly Mckew at younger.fellows@surgeons.org.