Contact us
For all your CPD enquires, please contact the team on any of the following number;
+61 3 9276 7474
+61 3 9249 1282
+61 3 9249 1166
Important changes to the RACS CPD Program in 2021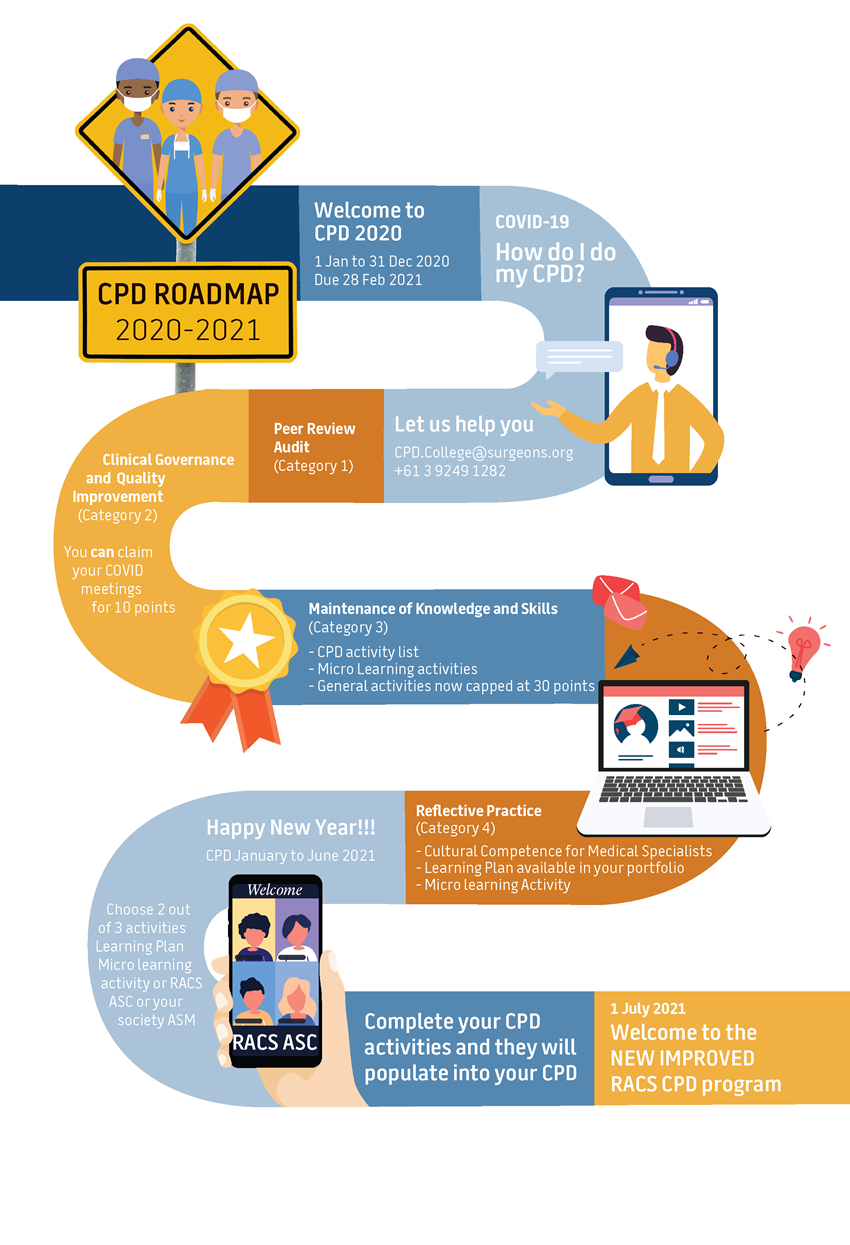 Important changes to the RACS CPD Program in 2021
Exciting changes are coming to RACS in 2021, with a new and personalised CPD Program and online Portfolio. The 'CPD roadmap' provides a high-level overview of the key changes for 2020/2021. The new interim program has now launched!
Let us know your thoughts using the feedback form
New 2021 CPD microlearning activity
This microlearning activity will help you understand the new CPD framework being launched on 1 July 2021.
By completing this activity you will meet one of your two requirements for the January to June period.
Access to your Member Profile and CPD online
As part of the One College Transformation program, RACS has updated the online member profile platform to improve your online experience. When you log in on or after February 8, 2021, you will see a few changes when you click on 'My Details' and 'My CPD'.

Once you log in to your member profile, you will see an enhanced log in page. From here you will be able to update your;
contact details
Areas of Practice
emergency contact information
When you click on 'My CPD' you can navigate to the new interim CPD system by clicking on 'CPD 2021' where you can:
create your 2021 CPD Learning Plan
submit an exemption request
download your 2021 CPD statement (when available)

2020 CPD - Reminder
A reminder to add your CPD activities for 1 January to 31 December, 2020 into CPD Online by no later than 28 February 2021.
In recognition of the impact the 2020 year has had on so many of us, the following adjustments to CPD requirements have been made:
Up to 10 points can be claimed for COVID activities in Category 2: Clinical Governance. This will meet the full requirement for this category in 2020.

An additional 10 points can be claimed for General Activities in Category 3: Maintenance of Knowledge and Skills. This increases the annual threshold to 30 points and recognises the significant reading and research activities many surgeons have undertaken this year.

To assist in meeting the Category 4: Reflective Practice requirement, an online activity is now available
RACS Fellows and surgeons participating in the CPD program have consistently demonstrated a strong commitment to participation and compliance - we will not be undertaking verification of CPD activities for 2020.
The revised RACS CPD Framework is scheduled for launch in July 2021.
Microlearning activities
Microlearning activities are bite sized, interactive learning opportunities, which are easily accessible via mobile phone, tablet or computer. They capture key messages and focus on the immediate information with links to gain a deeper understanding if required. These activities count towards Category 3 CPD points.
We value your feedback, please take a moment complete this brief microlearning evaluation.
Exemptions
All Fellows in active practice of any kind are required to participate in the CPD program.
The CPD team take exemptions and your personal circumstances seriously and will keep your information confidential.

Grounds for exemption may include:
ill health
family leave or other personal reasons
other special circumstances
In line with changes to regulatory requirements, Fellows undertaking post-specialty training are not eligible for an exemption from the CPD program.
Fellows residing overseas are required to upload evidence of participation in either a program in the country in which they practice or comply with RACS requirements.
You can apply for an exemption through eHub. If you would like to further discuss exemptions, please contact the CPD team at +61 3 9249 1282 or cpd.college@surgeons.org.
What is reflective practice?
Reflective practice is the capacity to reflect on action so as to engage in a process of continuous learning. In its simplest form it involves thinking about, or reflecting on, what you do. It is closely linked to the concept of learning from experience. Reflective practice requires a conscience effort to think about events, and develop insights into them. Reflective practice is a process by which you, pause and think about your practice, consciously analyse your decision making and draw on a theory to relate it to what you did (or didn't do) in practice.
Reflective practice in continuous learning includes:
CPD Program Guide
The CPD Program Guide (PDF 706.18KB) is a valuable resource for Fellows. The guide defines program requirements by practice types, details the range of activities available for Fellows to achieve their annual requirements, and includes frequently asked questions.