RACS is proud to support Crazy Socks 4 Docs Day on Friday 1 June 2018. The campaign aims to raise awareness of mental health issues experienced by doctors. Wear your crazy socks on 1 June, post a photo on social media with the hashtag #CrazySocks4Docs and start the conversation with your colleagues about mental health for all doctors.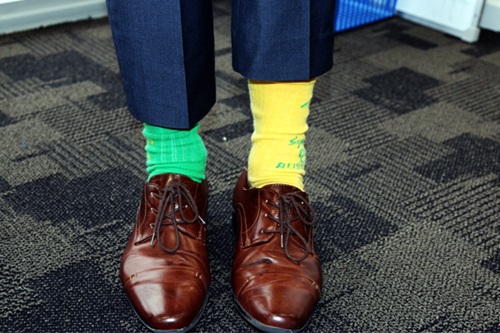 Doctors experience the full range of mental health issues - anxiety, depression, burnout, fear, anger. "It's time for us to shine a spotlight on this endemic issue of mental health amongst us. There is momentum and societal support for this elephant to be tackled. The first step is raising awareness. Some of us have been wearing funky socks since before it was fashionable. Now there is a purpose to your sartorial style," says Dr Eric Levi, Head & Neck Surgeon.
Crazy Socks 4 Docs Day will be launched at Peninsula Health by Mr Paul Edbrooke MP, State Member for Frankston and State Men's Health Ambassador, Ambulance Victoria CEO, Mr Tony Walker and RACS Fellow and Royal Australian Air Force Group Captain, Ms Annette Holian.
If you or someone you know is experiencing depression you can contact Lifeline on AUS 13 11 14 or NZ 0800 54 33 54 or beyondblue on AUS 1300 22 4636.
RACS Members and their families are encouraged to contact the RACS Support Program (Converge International) AUS 1300 687 327 or NZ 0800 666 367.