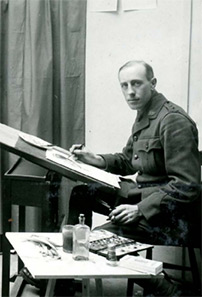 Most of the Lindsay watercolours from the Archive's collection have been digitised.
Cases of facial and jaw injuries were common during World War I and in 1917 a specialist hospital was established in the grounds of the Frognal Estate at Sidcup in Kent. Between 1917 and 1921 around 8000 soldiers from Britain, Australia, New Zealand and Canada were treated at the hospital.
Each of these countries offered their own surgical team and the Australian section was run by Lieutenant-Colonel Henry Newland, a future President of the College. Henry Pickerill who became a Fellow in 1930, headed the New Zealand section.
The collection contains watercolour illustrations by Daryl Lindsay, patient records including photographs and facial casts (in College Museum)
Requests for high resolution copies of the images can be made to the Archivist. Reproduction fees apply. For information: Email. elizabeth.milford@surgeons.org or Tel. 03 92491270.
View our Lindsay watercolours digital exhibition (Warning: Graphic content).