Australian specialist pathway & NZ vocational pathway
The Specialist Pathway is for IMGs is for overseas-trained specialists applying for recognition of their post graduate qualifications and experience in Australia. The Vocational Pathway is for IMGs seeking permanent registration to work independently in New Zealand.
About the Specialist Pathway - Australia
The Specialist Pathway is for International Medical Graduates (IMGs) in one of the following categories:
Specialist recognition: overseas-trained specialists applying for assessment or comparability to the standard of a specialist trained in that specialty in Australia.
Area of Need: overseas-trained specialists applying for an area of need specialist level position in Australia.
To be eligible to apply for assessment via the specialist recognition and/or area of need pathway, the following is required:
A primary qualification in medicine and surgery from a training institution listed in the current International Medical Education Directory (IMED) of the Foundation for Advancement of International Medical Education and Research (FAIMER) and;
Have satisfied all the training and examination requirements to practice in the field of specialty in your country of training.
As an IMG you can apply for Specialist Pathway or Area of Need or both in any one of the nine surgical specialties listed below:
Cardiothoracic Surgery
General Surgery
Neurosurgery
Orthopaedic Surgery
Otolaryngology Head and Neck Surgery
Paediatric Surgery
Plastic and Reconstructive Surgery
Urology
Vascular Surgery
The following  flow chart illustrates the process specifically for Specialist Assessment: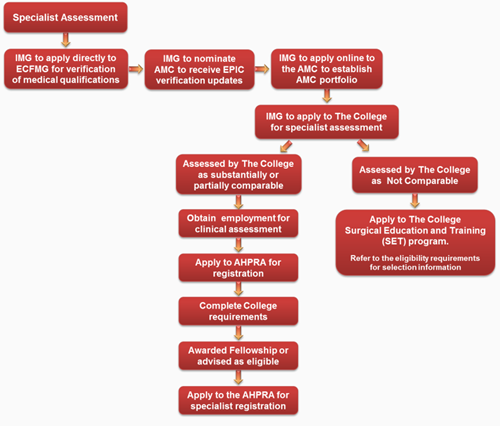 Find out more about the application process and how to apply at the link below.
About the Vocational Pathway - New Zealand
There are 35 vocational scopes recognised by the Medical Council of New Zealand (MCNZ). A list of vocational scopes is available on MCNZ's website at the link below.
Once an application for Vocational Registration fulfills the MCNZ's initial critera, advice is sought from the relevant Vocational Educational and Advisory Body (VEAB). The MCNZ makes its decision after considering the advice of the VEAB. RACS is the VEAB for its nine surgical specialties. For further information about the MCNZ's application process, visit their website at the link below.