Aotearoa New Zealand activities
The Aotearoa New Zealand office coordinates several events for local members.
Briefing to the Minister of Health 2023
RACS in Aotearoa New Zealand (AoNZ) has developed an overview of surgical services for the incoming government, highlighting the main issues and detailing how the College can help provide workable solutions. The briefing paper focuses on five key themes: health reforms, workforce, planned care, equity and environment. Key takeouts include:
Aotearoa New Zealand has fewer surgeons per capita than Australia and a strong reliance on overseas-trained surgeons.
Waitlists continue to grow across the motu (country) widening the health inequity between those who can afford private health insurance and those who cannot.
The surgical workforce is becoming more diverse, with growing numbers of Māori and women surgeons; an important element in improving health equity.
RACS supports the goals of the health reforms – to provide a fairer, more robust and accessible healthcare system - but would like to see government also focus on the environmental consequences of health services.
Read the full briefing paper (PDF 2.64MB).
Annual Surgeons' Meeting

The countdown is on
It's the highlight of RACS' Aotearoa New Zealand calendar and you're invited!
Surgery 2023: Surgical care in health system change
Thursday 31 August & Friday 1 September
In Wellington or online
Register now
Check out the conference handbook (PDF 1.26MB), including speaker bios, exhibitor information and finalists' abstracts for the Louis Barnett Prize.
---
---
This year's Aotearoa New Zealand Annual Surgeons' Meeting looks at the ongoing health sector reforms.
What direction are they moving in and what are some of the lessons we can learn from past health reforms both here and overseas?
How can we tackle some of the issues facing our healthcare system and what role can surgeons play in leading change?
Join co-convenors Drs Chris Adams and Nigel Willis and Professor Sean Galvin as we navigate these questions and more.
View the programme (PDF 277.41KB).
---
---
Among others, we'll hear from:
Dr Diana Sarfati, Director-General of Health and Chief Executive of the Ministry of Health
Dr Victoria Atkinson, a cardiothoracic surgeon and Chief Medical Officer for Australian private hospital provider Healthscope
Sir Malcolm Grant, barrister, academic lawyer, former law professor, and past Chair of NHS England
Margie Apa, Te Whatu Ora Chief Executive
RACS Fellows Dr Andrew Connolly, Professor Frank Frizelle, and President Associate Professor Kerin Fielding
Sessions include:
National health service: The new paradigm
System change: Experience and lessons
Enablers of contemporary surgical care
Improving access to surgical services
Louis Barnett Prize papers
Surgical Leaders Forum: Surgeons as leaders in the wider health system
Looking ahead
Don't forget the exhibition space which will feature stands from:
Medtronic
Molnlycke
EBOS Healthcare
Johnson & Johnson Medtech
AROA
You'll also get the chance to meet new Head of Aotearoa New Zealand, Michele Thomas, at the RACS stand.
---
---
Register now and select the registration options that best suit you.
> Come for one day or stay for both
> Join us for dinner on the evening of Thursday 31 August
> Can't come in person? Attend online.
---
---
Louis Barnett Prize
Trainees and younger Fellows involved in advanced surgical academic research have the chance once again this year to have their hard mahi recognised.
This prestigious award, valued at $2,500, was established in 1962 and commemorates Sir Louis Barnett, a pioneer of research into hydatid disease and the first New Zealand president of RACS.
Finalists will be invited to present in person on day-two of Surgery 2023: Surgical care in health system change, this year's Annual Surgeons Meeting which is being held on 31 August - 1 September in Wellington.
Don't miss the chance to raise awareness of your research and have your work recognised by your peers.
Have a read of the finalists' abstracts (PDF 250.29KB) from 2022.
Are you eligible?
This year the eligibility criteria have had a small change.

Previously the Louis Barnett Prize was open to Aotearoa New Zealand-based entrants.

The true intention of the prize though is for it to benefit Kiwi researchers, no matter where they live.

As such, to be eligible you need to be a Trainee or within the first five years of your Fellowship as of 30 August 2023, AND:
a citizen of Aotearoa New Zealand, OR
have permanent resident status for Aotearoa New Zealand.
The research may have been done either within or outside Aotearoa New Zealand; within or outside a Department of Surgery; and before or after commencement of surgical training. Only one abstract will be accepted per submitter.
Instructions for entry
Submissions close Friday 30 June 2023.
Follow the instructions carefully when writing your abstract.
Abstract content:
Title: brief but long enough to identify clearly the subject of the paper.
Author(s) / Presenter(s): First initial and then surname only. Presenter's/ presenters' name/s underlined.
Department and institution of all authors /presenters.
A declaration that you are eligible for the award ie. confirming you are a Trainee or are within the first five years of your Fellowship as of 30 August 2023 and are a New Zealand citizen or permanent resident.
The body of your abstract must include these headings in bold:
Introduction: Including the study hypothesis.
Purpose: A sentence stating the purpose of the study.
Methods: A description of the methods.
Summary of Results
Statement of Conclusions.
References: Only if necessary, and a maximum of two.
Don't forget to include a brief covering email outlining your involvement in the research.
Formatting your abstract:
Word documents only
350 words or less, excluding title, presenter(s) and department(s)
Single-spaced text with justified margins. Do not indent paragraphs
Abbreviations may be used but must be spelt out in full at the first mention followed by the abbreviation in parentheses.
Send your abstract to: college.nz@surgeons.org
Judging information
Abstracts will be subject to a blind evaluation by a panel of adjudicators who will select the best papers, up to a maximum of eight.
Adjudication of abstracts will consider: complexity of the project, quality of the science, relevance of the project, clarity of the abstract; and the amount of work contributed by the submitter.
Submitters of abstracts selected as finalists will be invited to present on Friday 1 September at Surgery 2023: Surgical care in health system change, to be held at Te Papa, Wellington.
Finalists' presentations should be no more than eight minutes long, with up to an additional two minutes for questions.
Finalists will be judged by a panel, including at least one Professor of Surgery ,who will consider: the introduction, method, presentation clarity, audio-visual aids and presenters' ability to defend the paper in discussion.
No award will be made if, in the opinion of the panel, no paper is of sufficient merit.
About Louis Barnett
Sir Louis was born in Wellington and was the first New Zealander to gain a Fellowship of the Royal College of Surgeons of England. He returned to Aotearoa New Zealand to a lectureship at Otago Medical School and in 1909 was appointed professor of surgery at Otago. He was awarded the CMG for his services in WW1 and was knighted in 1927 after his retirement from the Chair of Surgery.
In the 1920s Sir Louis was instrumental in the formation of the Royal Australasian College of Surgeons (initially known as the College of Surgeons in Australasia) and in 1927, at the College's first meeting which was held in Dunedin, he was elected the first Vice-President. He later became President of this College from 1937 – 1939.
A pioneer in hydatid's research, Sir Louis continued this work after his retirement from the Otago Medical School.
He was influential in the establishment of the College's hydatid register and was also prominent in the British Empire Cancer Campaign.
Sir Louis endowed the Ralph Barnett Chair in Surgery at Otago Medical School, in memory of his son who was killed in WWI.
International Womens Day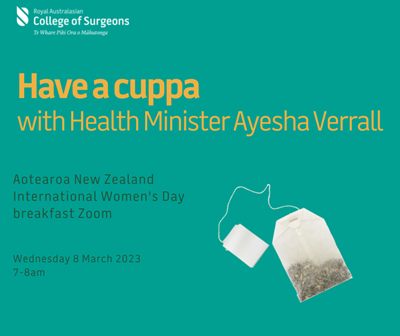 We had a great turnout for 2023's event with women and men surgeons from across the motu turning up for a lively discussion with guest speaker Hon Dr Ayesha Verrall, the Minister of Health.

Dr Verrall shared some of her experiences as both a clinician and a politician with Dr Jane Strang, General Surgeon and former AoNZ member of the RACS Women in Surgery committee. She also fielded questions preoccupying many of our members at the moment, including surgical waitlists, workforce shortages, hospital infrastructure issues and healthcare worker burnout.
We look forward to our 2024 event so watch this space for details.