Aotearoa New Zealand activities
The Aotearoa New Zealand office coordinates several events for local members.
International Womens Day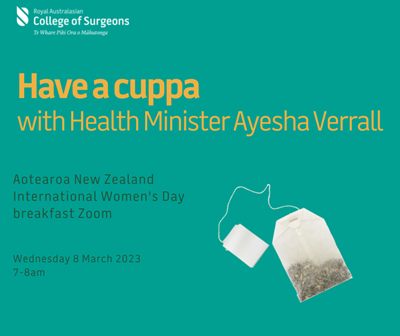 Save the date for International Women's Day.
Join us on Wednesday 8 March from 7am to 8am and hear from guest speaker new Health Minister Dr Ayesha Verrall.

Dr Verrall will be sharing some of her experiences as both a clinician and a politician with Dr Jane Strang, General Surgeon and former AoNZ member of the RACS Women in Surgery committee.
We're expecting a lively discussion so bring your questions...and your brekkie!
Meeting link: https://us06web.zoom.us/j/83123294009?pwd=c2FTWmd2eHRJcTgwU2JNZnV6ZDl1UT09
Passcode: 854021
International Women's Day is not just for women but for everyone who supports gender equality. Our breakfast Zoom aims to be inclusive and a celebration of the progress that has been made along the path to a more gender equal world.

Annual Scientific Meeting 2023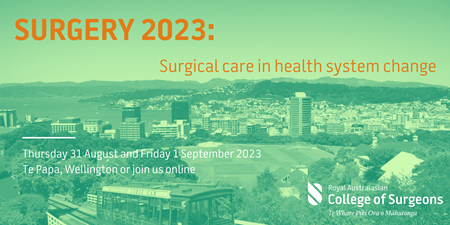 Lock in the dates now for the next Aotearoa New Zealand Annual Scientific Meeting on 31 August and 1 September.
Join us in Wellington or attend online.

The theme for Surgery 2023 is 'Surgical care in health system change' and will take a look at the current health sector reforms as well as the challenges facing the provision of surgical services.

The programme will be finalised soon and registration opens 1 May.

Among the influential leaders from across Aotearoa New Zealand, Australia and beyond who are already lined up to speak are:
Dr Diana Sarfati, Director-General of Health and Chief Executive of the Ministry of Health

Dr Victoria Atkinson, a cardiothoracic surgeon and Chief Medical Officer for Australian private hospital provider Healthscope

Sir Malcolm Grant, barrister, academic lawyer, former law professor, and past Chair of NHS England
Margi Apa, Te Whatu Ora Chief Executive.
Sessions will include:
National health service: The new paradigm

System change: Experience and lessons

Enablers of contemporary surgical care

Improving access to surgical services

Surgeons as leaders in wider health system.
The finalists of the Louis Barnett Prize will also be presenting their research.
Louis Barnett Prize 2022
Huge congratulations to Dr Ahmed Barazanch for scooping the 2022 Louis Barnett Prize.

His research showed the surgeon's "gut feeling" is a good pre-operative risk predictor in emergency Laparotomy, a high-risk abdominal surgery.

The Louis Barnett Prize has been recognising advanced surgical academic research from Aotearoa New Zealand (AoNZ) Trainees and younger Fellows for the past 60 years.

The prize, valued at $2,500, was established in 1962 and commemorates Sir Louis Barnett CMG, a pioneer of research into hydatid disease and the first New Zealander to become president of RACS.

It is open to all AoNZ-based Trainees and those who are within their first five years of their Fellowship.

Eight finalists were chosen this year and presented their work on the second day of the AoNZ annual surgeons' meeting, on 2 September in Queenstown.

Professor Spencer Beasley, an AoNZNC Surgical Advisor, said the quality of this year's finalists was exceptionally high and covered a broader spectrum of topics and specialties than previous years. He also noted the greater use of qualitative, as well as quantitative research, and the focus on equity and access issues.

You can read the abstracts of our eight finalists' here (PDF 250.29KB).
Aotearoa New Zealand National Committee meetings 2023
Friday 3 March
Friday 9 June
Friday 1 September
Friday 1 December