New South Wales Surgeons' Month
Surgeons' month (SM) is an annual RACS NSW initiative which seeks to bring together NSW Fellows, Trainees, Specialist International Medical Graduates, prevocational doctors, medical students, and College stakeholders to collaborate about surgical education, research, and best practice.
Younger Fellow Preparation for Practice
Saturday 21 November - Sunday 22 November 2020
Younger Fellows and Practice Managers came together on Saturday 21 and Sunday 22 of November 2020 at the RACS NSW office for our annual Younger Fellow Preparation for Practice Workshop, moderated by Younger Fellow Representative, Pecky De Silva.
Due to COVID restrictions, numbers were limited but the attendees took advantage of the atmosphere of a smaller group by engaging and connecting. This two-day course aimed to provide attendees with information on practical skills, tips, and advice for setting up private practice.
Participants also received a 'goody bag' which this year included a College merchandise (tote bag, reusable coffee cup, notebook, post it notes and skull cap), a copy of Surgical News, and sponsor flyers.
NSW Surgeons' Evening
Friday 27 November 2020

Surgeons' month culminated with our premier celebration event, NSW Surgeons Evening held at Dockside, Harbour. This year was the first time we hosted a sit-down event and will be the first of many to come. The evening recognised the achievements of outstanding Fellows of the College as well as featuring the Graham Coupland Lecture presented by Associate Professor Jonathan Clark. Award recipients included:
NSW Merit Award
Dr Lynette Reece
Associate Professor Arthur Richardson
Associate Professor Jonathan Hong
Service to the Community award
Mr Michael Stephen

Michael Donnellan Award

Associate Professor Philip Truskett

Graham Coupland Lecture and Medal

Professor Jonathan Clark

Annual Medical Student award

Ms Imogen Hines

Educator of Merit award

Professor Raymond Sacks
Together we have fulfilled the College's vision of showing leadership, working collaboratively with our key partners, and moving forward with integrity, respect and compassion – especially in such an unprecedented time.
RACS New South Wales would like to acknowledge and thank its sponsors 3M, Applied Medical, Avant, Bongiorno, Gore and MIGA for their ongoing support and ensuring ongoing success of our events.
Australian Defence Force (ADF) Surgeons
Webinar, Saturday 28 November 2020
On Saturday 28 November 2020, Dr Michelle Atkinson from the NSW RACS State Committee alongside Mr Brett Courtenay OAM hosted an ADF in Surgery webinar, with guest speaker Georgeina Whelan AM CSC and Bar, retired Army brigadier, and current Commissioner of the ACT Emergency Services Agency (ESA).
Commissioner Whelan presented an honest and informative presentation based on our Surgeons' Month theme 'leadership in a time of crisis'.
Watch the webinar recording
Women in Surgery
'Leadership in a time of crisis' was the theme for the last event of RACS NSW Surgeons' Month 2020, the Women in Surgery luncheon, held in the RACS Sydney offices on Sunday 29 November 2020.

Guest speakers at the luncheon included the Hon Bronnie Taylor MLC, NSW Minister for Mental Health, Regional Youth and Women, and Carrie Marr, Chief Executive of the Clinical Excellence Commission.

With COVID restrictions in place, it was a smaller, more intimate gathering of eighteen participants. Held in the RACS NSW TS Reeves Boardroom, overlooking Sydney Harbour and the CBD, the day featured lively and stimulating discussion about issues related to women in surgery, gender diversity in workplaces and flexible training.

The day ended on a positive note, with the Chair of the RACS NSW Committee, Associate Payal Mukherjee and Deputy Chair, Dr Michelle Atkinson, looking forward to reporting back to the NSW State Committee about how to further progress issues raised on the day.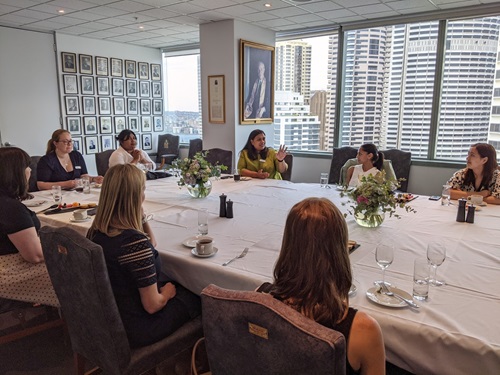 Prep for SET (Surgical Education and Training)
Connecting and engaging with NSW junior doctors and medical students came to the fore on Saturday 31 October 2020 at the RACS NSW office, with the running of the annual RACS NSW Preparation for Surgical Education and Training (Prep for SET) workshop.
15 participants interested in a career in surgery attended the day, which included sessions about pathways to surgery, research requirements, JDocs, RACS guides and courses, and how to prepare for SET selection. A practical skills session with laparoscopic trainers was organised by Applied Medical for the afternoon.
Participants also received a goody bag which this year included a RACS Essential Skills Kit, College merchandise (tote bag, reusable coffee cup, notebook, post it notes and skull cap), a copy of Surgical News, and sponsor flyers.
Associate Professor Toufic El-Khoury, RACS NSW Executive Committee member, moderated the day, supported by surgical Trainees and RACS staff. Although the number of participants was reduced this year due to COVID-19 restrictions, it made for a more intimate, casual atmosphere, which generated more discussion and interaction.
NSW Surgeons' Month 2020 - full program (PDF 4.57MB) (PDF 4.57MB) (PDF 4.57MB)