Queensland activities
The Queensland office coordinates several meetings and events for Queensland-based members
RACS Neville Davis and RACS Papers Prize 2021
Digital Health Webinar
The Royal Australasian College of Surgeons, in collaboration with the Australian Digital Health Agency, is hosting a hybrid interactive 1-hour webinar session on a range of digital health tools to support specialist practitioners. During this session, topics that will covered includes:
using My Health Record to enable improved decision support and continuity of care
an update on electronic prescribing.
Date: Tuesday 13 July 2021
In-person arrival time: 6pm (AEST)
Webinar commences: 7pm (AEST)
Venue: QLD State Office - Level 2, 59 - 69 Shafston Avenue, Kangaroo Point, QLD, 4169
Food and refreshments will be available from 6pm. There will be time allocated for questions and answers.
Surgeons' Month 2021
Surgeons Month will take place in October/November this year. Please see our events schedule below:
October

Tuesday 19 October - Committee Dinner and Awards Night
Tuesday 26 October - Preparation for SET (Medical Students and Junior Doctors looking for a career in surgery)
Saturday 30 October - Medical Students Surgical Skills Competition

November
Saturday 6 and Sunday 7 November - Younger Fellows Preparation For Practice
Tuesday 9 November - Past Chair's Dinner
Friday 12 November - FSSE course
Thursday 18 November - Directors of Surgery Forum
Friday 19 November - Leading Out of Drama Course
Saturday 20 November - Neville Davis and RACS Papers Prize Finals
Friday-Sunday 19-21 November - QLD State Conference
Bongiorno Building Your Brand
Time: 6.00pm arrival for a 6.30pm start
Date: November 2021
Venue: Level 2, 59 - 69 Shafston Avenue, Kangaroo Point, QLD, 4169
Queensland State Conference 2021

The State Conference will be held at Peppers Resort Noosa from 20-21 November 2021. Please reserve the date in your calendar. Sessions will include the following:
Planning – QHealth/Directors of Surgery

KPI – QHealth /Directors of Surgery

Resources – theatre, anaesthetists, surgeons

Generalism in surgery – training/college

Trauma/Emergency Surgery

Rural issues - RACS Rural Health Equity Strategic Action Plan and SOSS Program

Medical students – work life balance versus acute surgery provision in the future

Trainees – fatigue, supervision, flexible training impacts strategy/supervision in training afterhours/quality
As is customary at the State Conference, we will have the David Theile Lecture, which will be delivered by Dr Michael Wagels and a dinner speech from the honoured guest Dr Rosslyn Walker.
2021 Queensland Charity Dinner
The Queensland Charity Dinner was held Friday 14 May 2021 at W Hotel celebrating ASC week with money raised to support the Foundation for Surgery. Guests were treated to a three-course meal and ongoing entertainment throughout the night. This included: a pink carpet equipped with photographer, live and silent auctions which were held throughout the night, and a performance by Opera Queensland.
Women in Surgery
2021 International Women's Day
RACS Queensland celebrated International Women's Day 2021 by hosting a Women in Surgery morning tea at Customs House on 13 March with Gold Coast streaming in. Attendees enjoyed listening to two speeches by guest speakers Professor Julie Mundy and Lou Farmer and Nikki Brookes from The Small Steps 4 Hannah Foundation. The event proved to be an excellent networking opportunity for all.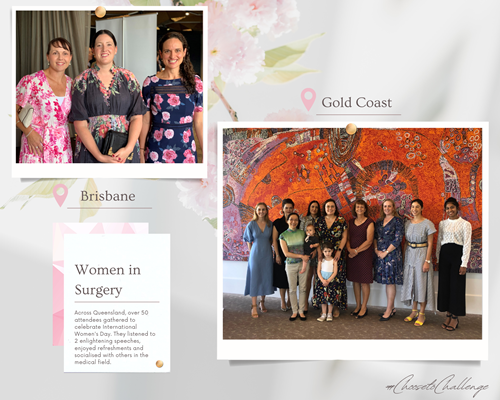 Our sponsors
RACS Queensland would like to acknowledge and thank its sponsors for their ongoing support. This partnership with our State Committee ensures that ongoing success of our events.
Major sponsors
Avant Mutual Group, Walshs Financial Group, Prescribe Practice Management, Hillhouse Legal Partners, Australian Digital Health Agency, Genie Solutions Software
Industry supporters
Shexie, VMORE, Ramsay Health, Medtronic Australasia, Matrix Surgical, Charterhouse Medical, BOQ Specialist, Experien, Defence Force Recruiting, ANZ Health