Queensland activities
The Queensland office coordinates several meetings and events for Queensland-based members
Queensland ASC hub
Due to the COVID-19 pandemic, it is expected that numbers will be restricted at the Melbourne Convention and Exhibition Centre in May during the RACS ASC 2021. As a result, the ASC will be live-streamed and on-demand to all those unable to travel and attend, and RACS offices will be hosting 'hubs' across Australia and New Zealand.
This program (PDF 238.07KB) has been developed for Queensland Fellows who wish to attend the state office hub.

For more information about the ASC including registration information please see the RACS ASC website.
Bongiorno Building Your Brand
Event title: Bongiorno Building Your Brand Series
Time: 6:00pm arrival for 6.30pm start
Date: Friday 19 February 2021
Venue: Level 2, 59 - 69 Shafston Avenue, Kangaroo Point, QLD, 4169
Register via email
Upcoming webinar
Succeeding in Private Practice webinar
Presented by Walshs & Hillhouse Legal Partners
When: Wednesday 10 February 2021 6pm
How: via Zoom
This webinar is ideal for doctors and their practice managers currently in private practice who are looking to maximise their success and gain valuable insights, as well as doctors who will soon be or who are considering starting their own private practice.
COVID-19 special
RACS Coronavirus information hub
The COVID-19 information hub has useful resources and updates about the coronavirus outbreak. The information hub contains information about hospital accreditation, training and support as well as links to COVID-19 downloads, resources and journal articles. Find out more.
Queensland State Committee
Letter to the Director-General (PDF 109.67KB) (PDF 109.67KB) (PDF 109.67KB) - 2 April 2020
AMA Queensland principles public-private partnership - 15 April 2020
Avant Mutual Group
Avant have proactively implemented measures to effectively serve members as the COVID-19 pandemic continues to escalate. See Avant's latest updates including information on:
Walshs Financial Group


Walshs COVID-19 special video - 7 April 2020
As the impact of the COVID-19 is felt across the broader community, Walshs' Simon Farmer and Hugh Walsh have filmed a special video for the College where they discuss its impact on the global economy and key steps which they believe our members should be taking to protect themselves and their practices.
Hugh outlines the range of government and bank incentive packages available to help surgeons survive the tough times, while Simon discusses the impact of the virus on the stock market and real estate and outlines what he believes the future holds in both the short and longer term.
Walshs Financial Group are kindly offering a 15-minute obligation free online video conference meeting via Zoom with members who have further questions.
Get in touch with Hugh at hugh@walshs.com.au or Simon at simon@walshs.com.au
Women in Surgery
International Women's Day Brisbane
Date and time: Saturday 13 March 2021 at 12pm
Location: Customs House
RSVP and queries: elly.mannetje@surgeons.org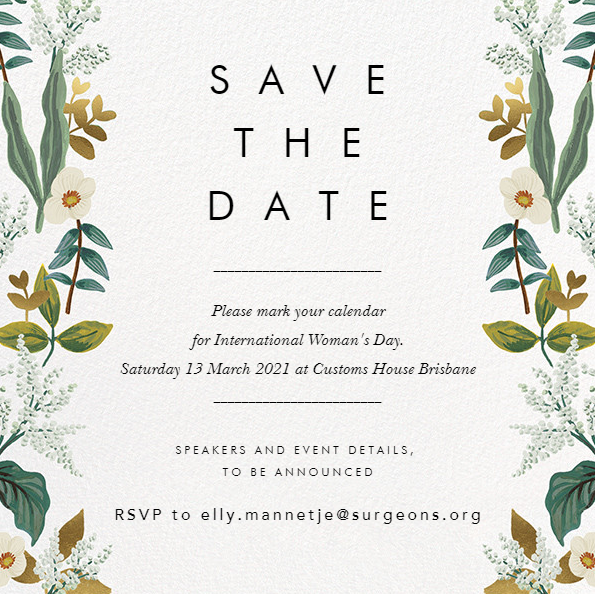 2020 International Women's Day
Brisbane, Sunshine Coast, Gold Coast, and Cairns joined in on the International Women's Day (IWD) celebrations in March 2020. Women Fellows, Younger Fellows, SIMGs, Trainees, junior doctors and medical students collaborated, creating a space to talk about their own personal experiences in surgery and surgical training. Cairns held their IWD evening on 6 March 2020. Gold Coast and Brisbane held their video-linked IWD lunches on 7 March 2020.
View article (PDF 664.21KB) (PDF 664.21KB)
Across the sunshine state, over 160 attendees gathered for food and drinks together, giving an opportunity for questions, further discussion and celebrating. After such successful International Women's Day celebrations, RACS Queensland looks forward to hosting an equality in medicine event later in the year.
Queensland Charity Ball
Queensland Charity Dinner 2021
This will be held as part of the ASC Hub week on Friday 14 May 2021. Further details will be available early in 2021.
RACS Queensland Inaugural Charity Ball
The Queensland Younger Fellows Group hosted the inaugural RACS Queensland Charity Ball on Saturday 10 November 2018, at Blackbird Restaurant, Eagle Street, Brisbane. Over 170 Queensland Fellows, Trainees, International Medical Graduates and their partners supported this worthy event. All proceeds from the Charity Ball were directed to the Foundation for Surgery, in particular two valuable projects:
Supporting Indigenous Australians who aspire to a career in surgery, and
Providing essential Trauma Management (EMST) training in Timor-Leste
Stay tuned for the next RACS Queensland charity event in 2020!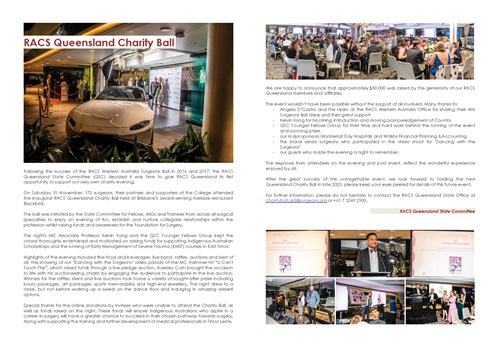 View article (PDF 1.63MB) (PDF 1.63MB) (PDF 1.63MB)
Email: charityball.qld@surgeons.org
Queensland State Conference
Combined Queensland State Conference & Surgical Directors Leadership Forum 2019
Convenors: Professor Deborah Bailey, FRACS | Professor David Fletcher, FRACS | Dr Brian McGowan, FRACS
Read our article in the July/August 2019 issue of Surgical News. (PDF 17.15MB)

Final program (PDF 15.04MB) (PDF 15.04MB)
The RACS Queensland State Conference combined with the Surgical Directors Leadership Forum was held down at the sunny Gold Coast. Professional Development workshops, the Statewide Surgical Services Forum and research presentations were included as part of the program prior to the formal opening of the meeting. The annual Neville Davis and RACS Papers prizes provides an important platform for Queensland registrars, junior doctors and medical students to present their research. The theme of the meeting "Seven (st)ages of a surgeon" was be explored through symposia with invited and guest speakers, providing a forum for lively discussions between speakers and delegates. The conference covered topics around:
Medical Student/Intern years
Registrar training years
Fellowship
Younger Consultant years
Director Surgery
College Councillor
Retirement
To recognise Dr David Theile for his ongoing contribution to surgery, the conference featured a lecture presented by an esteemed member of the medical profession Dr Barry O'Loughlin.
At the Saturday dinner, award announcements were made including:
Clinical Committee Prize to Dr Matthew Cheng
Gordon Gordon-Taylor Prize to Dr William McSweeney
RACS Papers Prize to Dr Andrew Morton
Neville Davis Prize to Dr Aaditya Narendra
Outstanding Services Awards to Associate Professor Fred Leditschke
The organising committee would like to thank everyone who made the event a big success, and we look forward to welcoming you back for our next installment in 2021.
Email: college.qld@surgeons.org | Telephone: +61 7 3249 2900
Surgical Skills Competition
RACS Queensland hosted its 7th Annual Queensland Surgical Skills Competition on Saturday 12 October 2019 at the College in Brisbane. View program (PDF 359.04KB)
The competition involved five medical students in their first year clinical course from the four medical schools in Queensland: Bond University, Griffith University, James Cook University and University of Queensland. Each student in their medical school team rotated around 5 test stations but worked as individuals. The various skills included suturing, laparoscopy, knot tying, cyst removal and anatomy (theory). The purpose of the event was to provide an introduction of basic surgical skills and promote surgery as a career.
Special thanks to our adjudicators on the day:
Convenor of the competition Dr Peter Yuide
Dr Stephen White
Dr Imogen Ibbett
Dr Kevin Lah
Dr Jeannine McManus
Dr Hajir Nabi
Dr Mairi McLaren
Trophies were awarded to the following:
Best University Team Score - Griffith University
Best Individual Overall Score - Hooman Baghaie from Griffith University.
If you wish to be involved as an adjudicator for any skills competition or for further information, contact admin.qld@surgeons.org
Our sponsors
RACS Queensland would like to acknowledge and thank its sponsors for their ongoing support. This partnership with our State Committee ensures that ongoing success of our events.
Major sponsors
Avant Mutual Group, Walshs Financial Group, Prescribe Practice Management, Hillhouse Legal Partners, Australian Digital Health Agency, Genie Solutions Software
Industry supporters
Shexie, VMORE, Ramsay Health, Medtronic Australasia, Matrix Surgical, Charterhouse Medical, BOQ Specialist, Experien, Defence Force Recruiting, ANZ Health