In just 24 hours, hundreds of surgeons are already getting behind our 'Let's Operate With Respect' campaign.
RACS President Professor David Watters OBE said the response to the campaign- which aims to help put an end to bullying, discrimination and sexual harassment in surgery - had been overwhelmingly positive - both online and off.
"It was great to hear such positive feedback from so many surgeons after I launched the campaign at the Annual Scientific Congress yesterday," Prof Watters said.
"People told me they were really proud of the work we are doing and I am too."
Dozens of surgeons are signing up to support the campaign at our booth at the ASC. You can also sign up online:
Many surgeons also took to social media to congratulate the College and to share their support for the campaign.
Hours after launching, the campaign had more than 250 likes and retweets on Twitter, and our video has been viewed almost 500 times on YouTube.
Professor Watters encouraged all surgeons to support Let's Operate With Respect initiatives, including the work outlined in the College's Action Plan: Building respect, improving patient safety.
Surgeons can: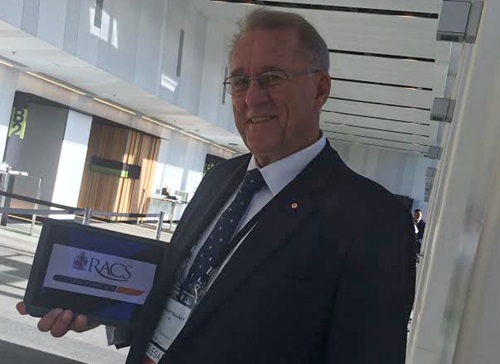 Photo: Professor Kingsley Faulkner registering his support at our ASC stall.