Health insurance
An overview of public and private health insurance in Australia and New Zealand.
Medicare in Australia
Medicare is Australia's universal health insurance scheme. It was introduced to ensure that residents have access to health care that is affordable, accessible and high quality.
Medicare is administered by the Department of Health and Ageing (DoHA) and is designed to support both the general public and medical professionals.
Medicare is funded by the Commonwealth Government to cover:
Subsidies for medications and free or subsidised treatment by medical practitioners
Access to public hospitals at no cost to the patient.
Medicare covers people residing in Australia who are Australian citizens, New Zealand citizens or holders of permanent visas.
Visit the Department of Health and Ageing Medicare information website for more details at the links below.
Medicare Provider Numbers
IMGs working in Australia may require a Medicare Provider Number. A Medicare Provider Number uniquely identifies the medical practitioner and the location from which a service is rendered.This number allows your patients to claim Medicare rebates for the services you provide.
A Medicare provider number identifies:
you and your eligibility to have Medicare benefits paid for eligible services you provide
the location from which you render services
your eligibility to refer or request services for Medicare purposes.
A Medicare provider number may allow you to:
raise referrals for specialist services; and
make requests for pathology or diagnostic imaging services.
If you satisfy the legislative requirements, a Provider Number may also be used to attract Medicare rebates for professional services rendered (to treat private patients).
Applying for a Medicare Provider Number
A Medicare Provider Number must be organised through your employer. They will be able to tell you the level of Medicare access you need.
Applications for a Medicare Provider Number can only be made after you have:
been offered a medical job in Australia
been granted a visa
successfully attended the registration interview
been granted registration
paid the registration fee
Application forms for an initial Medicare Provider Number can be found on the Medicare website at the link below.
Please note: you need a separate Medicare Provider Number for each location at which you practise. If you work at more than one location, or if you move to a new location, you need to apply for a separate provider number for each individual practice.
Medicare Benefits Schedule overview
The Medicare Benefits Schedule (MBS) is a listing of all the Medicare services subsidised by the Australian Government. Each service has its own unique item number that determines the fee for that service and the Medicare rebate a patient will receive.
The image outlines the item details, the scheduled fee and the reimbursed rebate or payment the patient receives.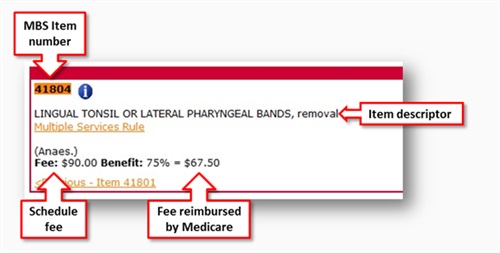 A medical practitioner can choose to set a higher fee for their services than the fee listed in the MBS. However, the Medicare benefit for the service will be based on the MBS fee.
Medicare benefits are not payable for a service not listed in the MBS.
The Medicare Benefits Schedule allows health care practitioners to search for any procedure that is subsidised by Medicare and is updated as changes occur to the schedule. The website also provides access to statistics relating to the MBS items.
Medicare - billing and payment
There are a number of options for claiming Medicare benefits and payments, depending on the billing method used, the two main options for Medicare services are:
Bulk Billing - accepting the Medicare benefit as full payment for the services provided. Human Services pays the benefit directly to you or your practice.
Issuing a private account - you can choose to set your own level of fees for service. If you choose to charge above the Medicare benefit, your patient will incur out-of-pocket expenses.
You are required to keep adequate and up to date records for Medicare purposes. It is your responsibility to ensure that the information on bulk bill claims and private accounts is correct.
For information see the Australian government Medicare Benefits Schedule website at the link below.
Accident Compensation Corporation in Aotearoa New Zealand
All Aotearoa New Zealand residents and visitors to Aotearoa New Zealand are provided comprehensive, 24 hour, no fault personal injury cover by the Accident Compensation Corporation (ACC). Cover includes medical and surgical treatment, rehabilitaton and compensation. The ability to sue for personal injury covered by the ACC is waived in return.
ACC is governed by the Accident Compensation Act 2001.
Personal injury covered by the ACC scheme is funded through levies paid by businesses, motor vehicle owners and employees.
Private health insurance in Australia
Private health insurance provides insured individuals with added benefits on top of those they would obtain from Medicare alone, including choice of doctor, choice of hospital and choice of timing of procedure.
There are two main types of private health insurance:
Hospital - Hospital policies help cover the cost of in-hospital treatment by your doctor and hospital costs such as accommodation and theatre fees. Generally, medical services listed under the Medicare Benefits Schedule (MBS) are covered by private hospital insurance.
General treatment (also known as ancillary or extras cover) - provide benefits for non-medical health services such as dental, optical and psychological treatment.
Individuals with private health insurance can choose to be treated as a private patient in either a public OR a private hospital.
Private health insurance in Aotearoa New Zealand
Private health insurance gives the advantage of being able to choose a healthcare professional and allows insured individuals more control over when and where they are treated.
There are two main types of policy:
'Comprehensive Cover' which covers all medical costs including GP visits and prescriptions
Policies that cover specific combinations of specialist care and elective surgery.