President's Badge of Office
The President's Badge of Office is worn by the senior office-bearer of RACS at official functions and when representing RACS elsewhere.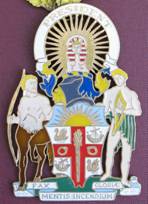 Wearing a badge of office is a venerable tradition among many colleges and societies, including the other surgical colleges. Some colleges have badges for all of their significant office-bearers, such as President, Vice-President, Past President, Honorary Secretary, Honorary Treasurer and Chairs of senior Boards. The badge for the President of the Royal College of Surgeons of England was presented to that College in 1904 by the then President, Sir John Tweedy.
The badge for the President of the Royal Australasian College of Surgeons is the gift of the Royal College of Surgeons of Edinburgh. Following the 1968 Annual Scientific Meeting held in Adelaide, J. R. (Derick) Cameron, President of the Edinburgh College, wrote to B.K. Rank, who had just stepped down from his term as President, thanking him for his hospitality and noting that the President of the Australasian College did not have a badge to wear. He offered on behalf of his College to provide a badge, as a token of friendship and cordiality between the two Colleges.
Council reacted very positively to this proposal. A suggestion for the President to have a badge of office had been made by Patrick Kenny to Benjamin Rank in May 1968, just before the proposal came from Edinburgh, so the matter of a ceremonial badge was prominent in the minds of Councillors at that time. Kenny moved at the Council Meeting of June 1968 that the President should be provided with a badge of office, and the motion was carried.
An official letter of offer was received from Edinburgh on 5 August 1968, and the new President, Stanley Reid, replied to Derick Cameron on 30 August. It was agreed that the form of the badge should be the coat-of-arms of the College, and the only point of discussion was whether the ribbon should be green or gold. Council favoured gold.
The badge took many months to produce. It was fashioned in Edinburgh, and despatched to Melbourne in May 1969. Stanley Reid served only one year as President, so the badge arrived just in time for him to wear it at his last Council meeting. It fell to his successor, Patrick Kenny, to be the first President inaugurated with the badge of office.
The badge shows the College coat-of-arms complete with motto and enamelled in full colour. Around the sunburst at the top is a band inscribed "President". The badge measures 9.7 x 6.4 cm, and weighs 102 g.