Surgical News
Surgical News is our bi-monthly publication that includes articles of interest in areas including surgery, research activities, College events and courses, and news on our overseas programs. Surgical News welcomes contributions from Fellows, Trainees and IMGs.
Latest edition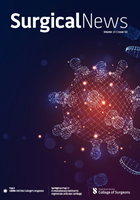 View the May June 2020 issue - volume 21, number 3 (PDF 7.15MB)
View past editions in the Surgical News archive.
Surgical News content submission deadlines 2020

Issue
Content deadline
Publication
January/February
Friday 17 January
Mid February
March/April
Friday 13 March
Mid April
May/June
Friday 15 May
Mid June
July/August
Friday 17 July
Mid August
September/October
Friday 11 September
Mid October
November/December
Friday 30 October
Early December
Editorial submission guidelines
When thinking of a story idea or when drafting your piece, please keep in mind editorial principles:
- independence and balance
- accuracy and clarity
- bi-national appeal – of interest to our Australian and New Zealand readers.
Think critically about how your piece is informing or educating the reader.
Does your piece have at least an element or more of "news" value i.e. prominence, proximity, significance, human interest, newness or unusualness?
Is your piece unbiased, peer reviewed where relevant, referenced? Does it include a disclosure statement for credibility where required?
Please note that your piece, if of a clinical nature, may be subject to independent review, for example by Dr John Quinn, Mr Richard Lander or Professor Julian Archer.
Please keep your piece to a maximum of 400 – 500 words.
Surgical News will not run editorial contributions that may be considered commercial or advertorial in nature. Please refer to the media kit (in the advertising section below) for all advertising enquiries.
Editorial submission process
Before submitting your piece, please review the following steps for submission:
Check the Surgical News editorial schedule (above) for publication dates and copy submission deadlines.
Email surgical.news@surgeons.org with:
Your name, title, RACS ID
Topic you wish to cover and a one paragraph summary of your idea
The Surgical News team will review your idea and will let you know whether to proceed with your submission. 
If your piece is co-authored, please ensure appropriate approvals are in place.
Please fill in and attach the submission form (PDF 210.57KB) with your piece.
Attach images or illustrations with captions (please see the submission form for tips on file size). Please contact Surgical News for assistance if you experience any issues (e.g. due to large file size) emailing your images.
Surgical News reserves the right to decline a submission or postpone articles. In this case you will be provided with the rationale for this decision.