Tri-state webinar series
RACS New South Wales, Victoria and Queensland have partnered to present a series of webinars throughout 2023, focusing on leading a sustainable future for surgery. 

We invite you to join us once a month on a Thursday evening, 7pm AEDT / 6pm AEST, to hear from a wide range of speakers on timely topics that would be of interest to all surgical specialties. 



Webinars 2023
The June webinar is happening on Thursday June 15, 6:00pm - 7:00pm AEST
Topic: Practical skills to build surgeon mental fitness and resilience
Speaker: Converge International
About: In partnership with Converge International, this webinar will build on the previous resilience and mental skills training in surgeons webinar to provide practical tools to enhance surgeon resilience. Participants will be provided with an overview of a variety of techniques contextualised to their professional and personal lives.
Register here: meeting registration - Teams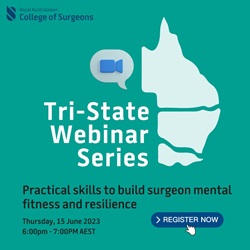 The July webinar is happening on Thursday July 20, 6:00pm - 7:00pm AEST
Topic: The importance of the social emotional well-being model in First Nations communities
Speaker: Dr Mikayla Couch
About: Dr Mikayla Couch is an obstetrics and gynaecology registrar, women's health expert and proud Bundjalung woman. From a young age, Dr Couch dreamed of having a profession where she could help people every day. Combining her propensity for science and innate ability to help people feel understood, she pursued a career in medicine. Dr Couch is a powerful voice in Australia's medical community. She is dedicated to furthering the health of all women and takes particular interest in bringing awareness to Indigenous health issues. As an Aboriginal woman herself, she has a personal understanding of the disparities between Indigenous and non-Indigenous communities.
Register here: meeting registration - Teams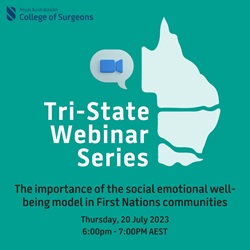 The August webinar is happening on Thursday, August 17, 6:00pm - 7:00pm AEST
Topic: AI in Healthcare
Speaker: Affiliate Assoc. Prof. Cooper
About: How is AI changing healthcare now and will it improve the surgeon and patience experience and outcomes into the future?
Register here: Via zoom here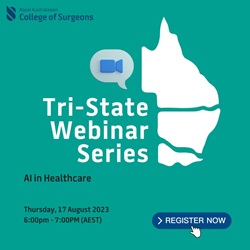 Previous webinars
Topic: Women and leadership in the sciences
About: RACS Fellow Dr Roxanne Wu, vascular surgeon and her daughter Dr Helen Buschel, a RACS Paediatric surgical Trainee joined us to discuss their leadership experiences throughout their careers, the challenges they have faced and examined how we could further achieve gender equality and empowerment of women and girls in science. RACS presents this webinar in support of the UN goal of full and equal access to and participation in science for women and girls; this webinar highlights the success of Australian women.
Speakers: Dr Roxanne Wu and Dr Helen Bischel
Hosts: Dr Julia Crawford and Dr Pecky De Silva
Topic: The evolution and benefits of telehealth: A surgeon's perspective
About: Dr Ian Smith, urological surgeon, provides urology services to Tamworth, Armidale and the surrounding regions. He provides robotic and laparoscopic surgery, prostate cancer management and treatment, and the treatment of general urological conditions. As a regionally based surgeon, Dr Smith has had to actively use telehealth to manage follow up patient appointments. He will discuss the evolution of telehealth, how he uses it, the challenges and benefits of using it, and how it can become the norm.