Beyond Science
Beyond Science is a clinician led and clinician run training program aiming to incrementally develop a comprehensive Australian-first medical technology translation program for Otolaryngology, Head and Neck Surgery.

Beyond Science
In October 2020, MTPConnect published a landmark workforce survey identifying deficiencies in the Australian Medical Biotechnology, Pharmaceutical and Digital health sector. Amongst the two main areas identified relevant to surgery were research and industry skills. Surgeon-scientists and surgeon-innovators have an important role in the entire medical technology translational cycle; not only from discovery to commercialization, but in ensuring that health technologies are implemented in value-based manner.

This includes defining safety and regulatory standards, balancing patient outcomes against health care costs, and working with policy makers to ensure that funding is both sustainable and promotes equitable access to technology.
Where do surgeons learn these skills?
Despite a rich history of biomedical innovation in Australia, there are limited training opportunities for surgeons to develop these skills. Within NSW, there are no formal surgeon-scientist training pathways in Otolaryngology, Head and Neck Surgery. Our limited understanding of technology commercialisation has impeded our ability to translate fundamental scientific breakthroughs to the bedside. Therefore, as research becomes more and more technology focused, developing these industry-ready skills will be essential so that Australian Otolaryngology will continue to deliver innovations to the community.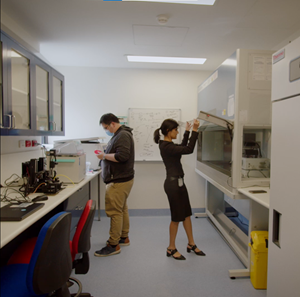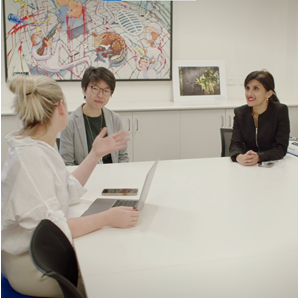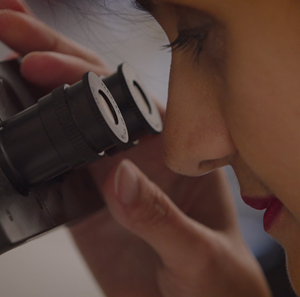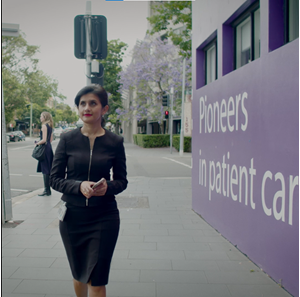 Board of Beyond Science
Clinical
Associate Professor Payal Mukherjee
Associate Professor Kelvin Kong
Professor Stuart Mackay
Professor Raymond Sacks
Professor Richard Harvey
Associate Professor Raewyn Campbell
Professor Nirmal Patel
Associate Professor Daniel Novakovic
Professor Jonathon Clark
Scientific
Professor Gordon Wallace
Professor Ben Eggleton
Professor Gregg Suaning
Professor Svetha Venkatesh
Associate Professor Hamish Macdougall
Professor David McAlpine
Professor Nigel Lovell
Professor Laura Poole-Warren
Professor Jeremy Crook
Associate Professor Payal Mukherjee
Associate Professor Payal Mukherjee (JPG 86.24KB)
A/Prof Payal Mukherjee is an Adult and Paediatric ENT Surgeon subspecialising in Ear Surgery, Cochlear Implantation and lateral Skull Base Surgery. She is a leader in Ear Bionics research such as 3D printed and Bioprinted medical devices and Cochlear Implants with a focus on global translation of Australian innovation in biotechnology.

She is the chair of Royal Australasian College of Surgeons NSW state committee, deputy chair of CHASM (Collaborative hospital audit of statewide mortality), an executive member of the Section of Academic Surgery, a committee member of the Research and Evaluation of ASERNIPS (Australian Safety and Efficacy Register of New Interventional Procedures in Surgery) and the Innovation Lead at the RPA Institute of Academic Surgery. She is also a committee member on the Advisory Committee on Medical Devices of the TGA (Therapeutic Goods Administration)

She is passionate about gender equity in surgery as well as developing STEMM skills in young girls. She was a finalist of the NSW Premier Women of the year 2019.
Professor Gordon Wallace
Professor Gordon Wallace (JPG 2.08MB)
Professor Gordon Wallace is involved in the design and discovery of new materials as well as the development of innovative fabrication and characterization methods. Gordon is committed to the use of fundamental breakthroughs in these areas to drive new technologies in Health.

He was appointed as an Officer of the Order of Australia 26 January 2017 and received Wollongong's award for Innovation in 2017 as well as serving as Wollongong's Australia Day Ambassador. Gordon was named NSW Scientist of the Year 2017. He received the Eureka Prize for Leadership in Science and Innovation in 2016 and was appointed to the Prime Ministers Knowledge Nation 100 in 2015. Gordon is a Fellow of the Australian Academy of Science, Australian Academy of Technological Sciences and Engineering (ATSE), Institute of Physics, and Royal Australian Chemical Institute (RACI). He is a corresponding member of the Academy of Science in Bologna.

Prof Wallace has a long-standing track record in research training. Since joining UOW, he has successfully supervised more than 130 PhD students from over 20 different countries who have gone on to highly successful careers around the world. He has also mentored over 40 ECR Fellows.

He has published in excess of 1,100 refereed journal publications that have attracted more than 64,000 citations with an H-index of 110 (Scopus). He is listed as a co-inventor on more than 60 patents and was acknowledged in 2017, by patent attorney Nicola L Maxwell, as one of Australia's most influential inventors.
Associate Professor Kelvin Kong
Associate Professor Kelvin Kong (JPG 55.08KB)
Experienced Surgeon with a demonstrated history of working across the health industry. Involved in clinical research, medical education, medicine, surgery, paediatrics, health policy and Indigenous education. Kelvin graduated from the University of NSW in 1999. Completed internship at St. Vincent's Hospital in Darlinghurst and streamed early into a surgical career, completing resident medical officer and registrar positions at various attachments. Along the way, his has been privileged in serving the urban, rural and remote communities. Awarded his fellowship with the Royal AustralasianCollege of Surgeons in 2007 and pursued further training in Paediatric ENT surgery, being grateful and honoured by his fellowship at The Royal Children's Hospital, Melbourne in 2007-8.
He is now practising in Newcastle on Awabakal Country, as a Surgeon specializing in Paediatric & Adult Oto-Rhino-Laryngology, Head & Neck Surgery (Ear, Nose & Throat Surgery). He has a very broad adult and paediatric practice, whilst having special interests in Paediatric Airway, Adult and Paediatric Cochlear Implantation, Voice and Swallow disorders and Head & Neck Cancer management.
He is an active member of RACS and ASOHNS, having served on multiple advisory boards and committee's including the Indigenous Health and Fellowship Services Committee. He is currently serving as secretary of Australia and New Zealand Society Paediatric Otolaryngology (ANZSPO) and chair of Mina (Aboriginal and Torres Strait Islander Advisory Committee for RACS). He is also currently serving on Cancer Australia's Advisory board. He has been a board member for several organisations including Hearing Australia and of the National Centre of Indigenous Excellence (NCIE). He has published articles and presented on a variety of ear, nose and throat conditions as well as Indigenous health issues both nationally and internationally. He is active in reviewing articles for publication, lecturing and teaching allied health professional, medical students at several universities and both unaccredited and advanced medical and surgical trainees.
Kelvin hails from the Worimi people of Port Stephens, north of Newcastle, NSW, Australia. Being surrounded by health, he has always championed for the improvement of health and education. Complementing his practice as a surgeon, he is kept grounded by his family, who are the strength and inspiration to him, remaining involved in numerous projects and committees to help give back to the community.
Professor Stuart Mackay
Professor Stuart MacKay (JPG 72.12KB)
Stuart MacKay is an Honorary Clinical Professor (University of Wollongong) and Honorary Fellow (University of Western Australia), who provides Ear, Nose, Throat, Head & Neck, Thyroid and Sleep Surgery services via Illawarra ENT Head and Neck Clinic and The Woolcock Institute of Sleep in Glebe. Professor MacKay is a fellowship trained contemporary airway surgeon and is recognized as a leading surgeon in this discipline in Australasia.
Professor MacKay has published over 75 peer reviewed publications related to sleep apnoea surgery, including textbook chapters and dissection manuals, and has been an invited speaker at a multitude of national and international meetings as far afield as India, China and the USA. He was a chief investigator in the NH&MRC funded SAMS trial published in JAMA and the primary author on the manuscript. He is also a recipient of a Garnett-Passe Rodney Williams Grant for research evaluating upper airway modelling and manipulation in sleep apnoea. He has thus a keen interest in investigating new and emerging technologies in OSA treatment. Professor MacKay is also an IHMRI affiliate, supervising Master of Philosophy Students and receiving co-investigator status on an IHMRI small grant. He is a member of ASOHNS and the Australasian Sleep Association (and its Clinical Committee) and the current Vice President of the International Surgical Sleep Society.
Professor Raymond Sacks
Professor Raymond Sacks (JPG 63.09KB)
Prof Raymond Sacks initially qualified as an ENT Surgeon in 1992 in South Africa and then repeated his training and FRACS exam, gaining FRACS in 1996. Since then he has been actively involved in both academic and administrative duties and currently sits on multiple Boards of RACS, ASOHNS, Sydney University, Macquarie University and the Australian Government Department of Health. He is the Current Head of ENT Surgery at the University of Sydney and has been a PhD examiner at 7 different universities. He is a co-Director of the Sydney Rhinology Fellowship which is currently on the US Match Program.
He has been a keynote speaker and invited faculty on courses throughout the world covering 32 countries on 6 continents. He is also on the Editorial Board of multiple journals and has published more than 130 manuscripts in peer-reviewed journals as well as 23 book chapters, a Manual of endoscopic sinus surgery and a Textbook on Endoscopic surgery of the Orbit. His current H-Index is 31.
Prof Sacks has received multiple special awards and medals including, the RACS Academy of Surgical Educators Award for Educator of the Year 2020, the ASOHNS Medal for Distinguished Service in the Science and Art of Otolaryngology, the RACS Medal for Outstanding Service to the Court of Examiners, the NSW RACS medal for Distinguished Service to Surgery in 2017 and The Garnett Passe and Rodney Williams Memorial Foundation medal for 2018. He was the Foundation speaker to the Royal Society of Medicine in London in 2018 and continues to be actively involved in Teaching, Research and Examination. His area of special interest is in Nasal and Sinus disease and General Paediatric Otolaryngology.
Professor Richard Harvey
Professor Richard Harvey (JPG 62.43KB)
Richard currently works as a dedicated rhinologist (nose, sinus, allergy and endoscopic sinus and skull base surgery) at Macquarie University and St Vincent's Hospitals in Sydney. He is the program head of Rhinology & Skull Base Surgery at the Applied Medical Research Center of UNSW and is Professor at both the University of NSW and Macquarie University. After several years of post-training fellowships, including formal fellowships in the USA and UK, Richard practices in Sydney, Australia, as one of only a few dedicated rhinologists in the country.
He has authored over 300 publications, books, book chapters and completed his PhD in trans-nasal skull base surgery. Prof Harvey has been ranked as the top Australian researcher in otolaryngology in the past 3 years. Richard has presented over 800 lectures and talks on sino-nasal disease management. He is the current Editor-in-chief of the Australian Journal of Otolaryngology (ww.w.TheAJO.com) as well as an associate editor for the Cochrane ENT disorders group currently. Richard contributes to the editorial board for Rhinology Journal, American Journal of Rhinology & Allergy and is actively involved in research programs in Sydney. Prof Harvey is the current president of the Australian & New Zealand Rhinologic Society and the Australasian Academy of Facial Plastic Surgeons.
He is the recipient of the Australian Society of Otolaryngology Head & Neck Surgery Medal for Distinguished Contribution to the Art and Science of Otolaryngology Head and Neck Surgery, intended to recognize members who are providing outstanding OHNS services beyond their normal practice activities. Along with training surgeons in both developed and emerging countries, Richard runs a series of courses with Sydney every year to further rhinologic education and training in Australia.
Associate Professor Raewyn Campbell
Associate Professor Raewyn Campbell (JPG 86.93KB)
Associate Professor Raewyn Campbell currently works as a dedicated Rhinologist and Skull Base surgeon in Australia. Raewyn completed 3 international fellowships in Rhinology and Skull Base surgery in Auckland, New Zealand and Philadelphia and Columbus, USA.
Raewyn has published multiple journal articles and book chapters and has presented at specialist conferences worldwide. She is actively involved in teaching medical students and otorhinolaryngology/ENT trainees and teaches at rhinology and skull base courses locally and internationally. Raewyn has also trained surgeons internationally and is actively involved in ongoing rhinology and skull base research. She is on the editorial boards for the Australian Journal of Otolaryngology and Rhinology (Frontiers in Allergy special edition) and is a reviewer for multiple academic journals. She is currently undertaking a PhD at The University of Sydney.
Professor Nirmal Patel
Professor Nirmal Patel (JPG 51.16KB)
Nirmal was Australia's first elected member and contributor to the International Working Group of Endoscopic Ear Surgery, which seeks to advance the technique of minimally invasive ear surgery around the world. He is the General Secretary of the International Working Group of Endoscopic Ear Surgery and is an elected Board Member of the Pan Asian Working Group of Endoscopic Ear Surgery as the Educational coordinator. Is also invited faculty and tutor at Endoscopic Ear Surgery courses and meetings around the world including USA, India, Italy, Spain, South Korea, China, Scotland, Japan, Dubai, Kenya and Sharjah.
Research interests include Endoscopic ear surgery anatomy outcomes, AI static and video analysis in Ear Surgery, Internet and surgery, EES Surgical Education, Indigenous Ear Nirmal has performed or supervised over 1000 Endoscopic ear surgeries.
Associate Professor Daniel Novakovic
Associate Professor Daniel Novakovic (JPG 12.07KB)
Daniel Novakovic is an Australian Otolaryngologist with subspecialty fellowship training in Laryngology/Neurolaryngology and Care of the Professional Voice. He received his medical degree from University of Sydney and completed a Master of Public Health (University of New South Wales).
Dr Novakovic is a member of ASOHNS and is current President of the Laryngology Society of Australasia. He is head of ENT department at Canterbury Hospital, and Associate Professor, as well as co-director of the Dr Liang Voice Program in the Faculty of Medicine and Health at University of Sydney.
A/Prof Novakovic has active research interests in the impact of the HPV vaccine on Laryngeal Papillomatosis, laser-tissue interaction, laryngeal/upper airway surgery and office based laryngeal treatments including minimally invasive surgery and laryngeal botulinum toxin. He has published widely in peer reviewed journals and has authored numerous textbook chapters as an invited expert in the field.
Professor Jonathon Clark
Professor Jonathon Clark (JPG 35.39KB)
Professor Clark is a Head and Neck ablative and reconstructive surgeon at Chris O'Brien Lifehouse. He is the Lang Walker Family Foundation Professor and Chair in Head and Neck Cancer Reconstructive Surgery at the University of Sydney, Director of head and neck cancer research at Lifehouse, and Director of Translational Research at the Royal Prince Alfred Institute of Academic Surgery.
Professor Clark's clinical expertise and research focus is in the areas of salivary gland tumours, oral cancer, digital planning for precision jaw reconstruction and dental rehabilitation, facial nerve reconstruction, advanced skin cancer, and transoral robotic surgery (TORS). He has > 290 peer review publications and is a Member of the Order of Australia (AM) for contributions to head and neck surgery.
Professor Ben Eggleton
Professor Ben Eggleton (JPG 86.13KB)
Professor Benjamin Eggleton is the Director of The University of Sydney Nano Institute. He also currently serves as co-Director of the NSW Smart Sensing Network (NSSN). Eggleton was the founding Director of the Institute of Photonics and Optical Science (IPOS) at the University of Sydney and served as Director from 2009-2018. He was previously an ARC Laureate Fellow and an ARC Federation Fellow twice and was founding Director of the ARC Centre of Excellence for Ultrahigh bandwidth Devices for Optical Systems (CUDOS) from 2003-2017.
Eggleton is the author or co-author of more than 500 journal publications, including Science, Nature Photonics, Nature Physics, Nature Communications, Physical Review Letters and Optica and over 200 invited presentations. His journal papers have been cited 2,000 times according to webofscience with an h-number of 76 (102 in google scholar).
Professor Gregg Suaning
Professor Gregg Suaning (JPG 10.12KB)
Professor Gregg J. Suaning is Head of School of Biomedical Engineering with the University of Sydney, a school that he established in 2019. He has over three decades of experience in implantable neuroprosthesis research in both industry and academia helping the deaf to hear, the blind to see, and the lame to move.
He received his BSc and MSc from the California State University in 1986 and 1988 respectively. His Ph.D. in visual prosthesis from UNSW was awarded in 2003. He has been awarded with several international patents in the medical device field – primarily in sensory bionics. Gregg has authored over 150 peer-reviewed manuscripts and has played a leadership role in competitive research programs with funding in excess of $60M during his academic career.
Professor Svetha Venkatesh
Professor Svetha Venkatesh (JPG 77.48KB)
Svetha Venkatesh is an ARC Australian Laureate Fellow, Alfred Deakin Professor and Co-Director of Applied Artificial Intelligence Institute (A2I2) at Deakin University. She was elected a Fellow of the International Association of Pattern Recognition in 2004 for contributions to formulation and extraction of semantics in multimedia data, a Fellow of the Australian Academy of Technological Sciences and Engineering in 2006, and a Fellow of the Australian Academy of Science in 2021 for ground-breaking research and contributions that have had clear impact. In 2017, Professor Venkatesh was appointed an Australian Laureate Fellow, the highest individual award the Australian Research Council can bestow.
Professor Venkatesh and her team have tackled a wide range of problems of social significance, including the critical areas of autism, security and aged care. The outcomes have impacted the community and evolved into publications, patents, tools and spin-off companies. This includes three full patents, one start-up company (icetana) and two significant products - TOBY Playpad, Virtual Observer.
Professor Venkatesh has tackled complex pattern recognition tasks by drawing inspiration and models from widely diverse disciplines, integrating them into rigorous computational models and innovative algorithms. Her main contributions have been in the development of theoretical frameworks and novel applications for analyzing large scale, multimedia data. This includes development of several Bayesian parametric and non-parametric models, solving fundamental problems in processing multiple channel, multi-modal temporal and spatial data.
Associate Professor Hamish MacDougall
Associate Professor Hamish MacDougall (JPG 50.94KB)
Associate Professor Hamish MacDougall's PhD focused on balance (vestibular) function, eye tracking and simulation for human factors research. He conducted a 3-year post-doctoral fellowship at the Mount Sinai school of Medicine in NYC and developed new methods and devices to study: artificial gravity countermeasures; head-eye coordination during simulated Orbiter landing; and GVS augmented training (NASA).
A/P MacDougall returned to the University of Sydney in 2006, to work on: head-eye coordination during driving (ARC); the effect of motion on human performance (DSTO), and operator proficiency following long-duration spaceflight (NASA), and Rapid Translation of Advanced Vestibular Testing and Treatment (GPRWMF). His previous translation projects include the video Head Impulse Test (vHIT) used 10k clinics for over 1M improved diagnoses per year and the free iOS and Android apps including the educational 'aVOR' (angular Vestibuolo-Occular reflex) that has been downloaded by over 110,000 users in 100 countries and 10 languages.
At the beginning of the Covid-19 pandemic, all our meetings, teaching, and research into the VR 'Metaverse' were moved online which provided resilience to disruption, dramatically reduced costs, and increased productivity. Sydney Human Factors Research and the VR OpenLab are now affiliated with the Institute of Academic Surgery, Royal Prince Alfred Hospital, Sydney local Health District.
Professor David McAlpine
Professor David McAlpine (JPG 81.49KB)
Professor David McAlpine is a globally recognised research leader in auditory sciences, with an extensive history of successful strategic leadership and management experience in Australia and the UK. He is constantly engaged in developing and implementing innovative ways of working across discipline and organisational boundaries. Recognised as a key opinion leader by commercial, clinical, media, and charity organisations, he works to ensure the benefits of collaborative partnerships are realised as tangible outcomes that benefit individuals, partners, and broader society.
Since 2015, David has served as Director of Hearing Research and Professor of Hearing, Language and the Brain at Macquarie University. In 2016 he was appointed a Laureate Fellow by the Australian Research Council. Leading the development of the Macquarie University Hearing Strategy 2030, he works to connect research, education, innovation across the University to practical implementation opportunities. He has expanded and created new relationships with partners across the government, charity, creative and business sectors.
He serves on the ARC College of Experts for flagship funding programmes. He has sustained personal grant success, holding multiple category 1 grants concurrently with significant category 2 and 3 funding. He served as a member of the Board of the HEARing CRC from 2015-2019, and is currently the Chair of the Australian Hearing Hub Research and Collaboration Committee, consisting of charities, research organisations and corporate partners. He served as Chair of the External Scientific Advisory Board for Oticon's Eriksholm Research Centre (2013-15), and is currently on the Scientific Advisory Board for both Autifony Therapeutics (2011-) and Augmented Bionics (2019-). He acts as external advisor to the NIH-T32 Research Training Grant for University of Washington, Seattle.
Professor Nigel Lovell
Professor Nigel Lovell (JPG 16.8KB)
Nigel Lovell currently at the Graduate School of Biomedical Engineering UNSW Sydney where he holds a position of Scientia Professor and Head of School. He has authored 300+ journal papers and been awarded over $100 million in R&D and infrastructure funding. Over his career he has mentored 70 PhD students and delivered more than a hundred keynote presentations. He is a Fellow of seven learned academies throughout the world including ATSE, the IEEE and AIMBE.
His research work has covered areas of expertise ranging from cardiac and retinal modeling, medical informatics and data analytics especially related to telehealth technologies, biological signal processing, and visual prosthesis design. For 2017 and 2018 he was the President of the world's largest biomedical engineering society – the IEEE Engineering in Medicine and Biology Society.
Professor Laura Poole-Warren
Professor Laura Poole-Warren (JPG 97.76KB)
Laura Poole-Warren is a Professor in the Graduate School of Biomedical Engineering, UNSW where she leads a research group focussed on design and development of novel neural interfacing materials for neural stimulation and recording electrodes. She is an Associate Editor of the leading journal in her field, Biomaterials and on the editorial board of the Journal of Neural Engineering.
She has held appointments as a preclinical scientist in the biomedical industry working on development of implantable devices including wound dressings and embolic agents for cancer treatment. She also has expertise in regulatory requirements for medical technology having served for 10 years as a member of the Australian Commonwealth Government statutory Advisory Committee on Medical Devices (ACMD) advising the Therapeutic Goods Administration on the safety of medical devices.
Laura held several senior leadership roles at UNSW over the past 15 years, most recently as Pro Vice-Chancellor and Dean of Graduate Research in the Division of Research from 2010 to 2018. Laura was awarded honours in 2020 as a member of the Order of Australia (AM) for service to Biomedical Engineering and Education and has been elected as a Fellow of four academies, ATSE, Royal Society of NSW, AIMBE and IUSBSE.
Professor Jeremy Crook
Professor Jeremy Crook (JPG 67.58KB)
Professor Jeremy Micah Crook is The Arto Hardy Family Professor of Biomedical Innovation in the School of Medical Sciences, Faculty of Medicine and Health at the University of Sydney (UOS), Director of Biomedical Innovation at the Chris O'Brien Lifehouse, and a Professorial Fellow – Biomedical Engineering at the University of Wollongong (UOW). Jeremy attained his Doctor of Philosophy (PhD – Medicine, 1998; NHMRC Postgraduate Scholarship) at The University of Melbourne, followed by a US National Institutes of Health (NIH) Fogarty International Centre Post-Doctoral Fellowship (1999-2001).
From 2002-2007 Jeremy was a Program Manager in the stem cell biotech ES Cell International (ESI, 2002-2007), after which he returned to academic research as Group Leader in Singapore's A*STAR Institute of Medical Biology. At ESI Jeremy and his team developed the world's first clinical-grade pluripotent stem cell lines for human therapies (Crook et al 2007 Cell Stem Cell).
At UOW Jeremy is combining front-line technologies stem cells, innovative biomaterials, 3D bioprinting and bioelectronics to innovate new technologies in research and medicine; for which he received the inaugural Research Australia 2019 Health and Medical Research "Frontiers Research Award".
At COBL and UOS, Jeremy is extending his leadership in applied research, with a vision to accelerate biomedical advances for cancer therapeutics, including regenerative therapy after cancer, within a clinical setting. Jeremy's role includes leading the Federal Gov't funded Sarcoma and Surgical Research Centre (SSRC; housed within the Biomedical Innovation Hub), which has been set up to design, prototype and manufacture 3D printed prosthetic devices for generic and personalized medicine.
Advisory Committee of Beyond Science
Professor Jim Patrick AO
Chair
James (Jim) Patrick is recognised as a world authority on cochlear implants. Together with Professor Graeme Clark, he is one of the original engineers who pioneered the development of the multi-channel cochlear implant.
Jim joined Professor Clark's research team at Melbourne University in 1975. With training in physics and communications engineering, and an interest in how electrical stimulation might be used to help people hear, he led the successful development of 'UMDOLEE', the 10-channel cochlear implant developed by the university's Departments of Otolaryngology and Electrical Engineering.
When the UMDOLEE proof of concept generated Commonwealth Government support for commercial development in 1981, Jim moved to Sydney as a member of the Cochlear 'Tiger Team' established by Paul Trainor inside the Nucleus group, to develop a 'clinically applicable' cochlear implant. Jim was responsible for systems engineering and the digital aspects of the implantable stimulator, playing a key leadership role in the development of the commercial medical implant.
From 1981 to 2016 Jim was a member of Cochlear's senior management team, holding a number of technology management roles, including responsibility for R&D, Quality and Manufacturing. He was recently responsible for Cochlear's global research programme, exploring how novel forms of signal processing can improve the performance of the cochlear implant and how advances in biology and electro-neural interfaces can be applied to future implant designs.
Jim has also been involved in several projects that seek to use Cochlear technology in other medical bionics fields. These include the treatment of spinal cord injuries, the use of an implanted stimulator to provide sensory feedback for people using artificial hands and the use of an implanted stimulator to provide 'pacing' vestibular stimulation to relieve Meniere's disease symptoms.
Jim has been a member of the Advisory Boards to many Institutions, with current appointments to The Shepherd Centre Research Advisory Committee, the Mirage 3.4D Board and the Carbon Cybernetics Board.
Jim retired from Cochlear in December 2016 but continues to contribute in an Emeritus role.
Jim is named as an inventor on 37 families of patents. He has been invited to present at numerous conferences on topics associated with cochlear implants and has contributed to 11 book chapters and 44 peer-reviewed papers.
Professor Philip Truskett
Phil Truskett is a General Surgeon with an interest in Upper GI and HPB Surgery at the Prince of Wales Hospital, Sydney, where he is a senior staff specialist.
He has taken an active role in both the Royal Australasian College of Surgeons and General Surgeons Australia. He is a past President of General Surgeons Australia. As a College councilor he has served on many College committees. He was the Chair of the Board of Surgical Education and Training and then served as Censor in Chief. He is the immediate past President of the Royal Australasian College of Surgeons. He is the current Chair of the Council of Presidents of Medical Colleges (CPMC).
His major interest is in the provision of Emergency Surgery to our community in our current challenging environment. As a result, he has been involved in the design and assessment of models of care to provide consultant-led timely care. These models of care are now being adopted in Australia and New Zealand.
He is a strong advocate for sustainable surgical service and professionalism. "The provision of patient-centred care in a safe, clinical environment is the benchmark by which we are all judged as professionals and how we should judge one another. It is education in the non-technical skills of surgery which will strengthen our place in the community." This education is a current focus.
He is a proud patron of the Australian Indigenous Doctors Association and a committed advocate for equity of access for indigenous Australians to medical schools and specialty training.
Anne O'Neill
Anne is currently the Director of Enterprise and International Partnerships at the Office for Health and Medical Research at NSW Heath. Anne has over 20 years' experience in the health, medical research and policy sectors. She is responsible for leading the development and implementation of major policies and programs to enhance medical research capacity in NSW and raise the profile of NSW research and development nationally and internationally. She is responsible for the NSW Medical Device Fund and NSW Commercialisation Training Program – both have been critical to accelerating the development of NSW intellectual property and the next generation of innovators and entrepreneurs in NSW.
Anne holds a Bachelor of Science (Physiology and Pharmacology) (Hons) and an Executive Masters of Public Administration (ANZSOG).
Professor Susie Nilsson
Professor Susie Nilsson received her PhD from Melbourne University before completing post-doctoral studies at the University of Massachusetts. On her return to Australia in 2002, Susie worked as laboratory head at the Peter MacCallum Cancer Institute and in 2005, she moved to the Australian Stem Cell Centre prior to being appointed as an ARC Future Fellow and Team Leader at CSIRO in 2009. She became a group leader at ARMI, Monash University in 2013 and a CSIRO OCE Science Leader in 2014.
Currently she has an adjunct Professor appointment at ARMI, Monash University and is the Research Director of Biomedical Manufacturing at CSIRO.
Dr Jean-Frederic Levesque
Dr Jean-Frederic Levesque is the Chief Executive of the NSW Agency for Clinical Innovation, the Executive Lead of the NSW Health COVID-19 Critical Intelligence Unit, and Associate Professor at the Centre for Primary Health Care and Equity, University of New South Wales.
Dr Bridget Clancy