New South Wales activities
The New South Wales State Office regularly holds events for Fellows and Trainees including Surgeons' Month held annually in November. Medical students and junior doctors are also welcome. For this year's event information, please go to the NSW Surgeons' Months page.
Personal Protective Equipment/TGA webinar
On behalf of RACS NSW, join us on Friday, 31 July 2020 at 3pm for an informative webinar with experts of the industry discussing personal protective equipment, regulations, supply, safety, and standards issues.

Date: Friday, 31 July 2020
Time: 3-4pm AEST
Panel speakers include:
Dr Amanda Cuss from Therapeutic Goods Australia
Dr Kate Clezy from the Clinical Excellence Commission
Dr Kathy Dempsey from the Clinical Excellence Commission
Mrs Melissa Coward from ASOHNS
Mr Terry Gorman from 3M
A/Prof Arthur J Richardson - Hepato-Biliary, Upper Gastro-Intestinal and General Surgeon Associate Professor, University of Sydney

Registration

Click here to register for free.
You will be sent the URL for this webinar when you register.
You will need to download Zoom to be a part of this workshop.
To download and install the Zoom application, go to the Zoom website and from the Download Center, click on the Download button under Zoom Client For Meetings.
This application will automatically download when you start your first Zoom meeting.
Equality in Medicine evening
In the stimulating and vibrant surrounds of the Art Gallery of NSW, RACS NSW hosted an Equality in Medicine evening on Wednesday, 13 November 2019.
Associate Professor Payal Mukherjee, Deputy Chair of the RACS NSW State Committee, opened the evening and congratulated the NSW Government for its recent decision to formally recognise the parental leave entitlements for surgical Trainees returning to NSW after completing a rotation of their training elsewhere in Australia or New Zealand. RACS has been a long-term advocate on this issue.
Speakers included Ms Janet Menzies, Cochlear's General Manager Australia and New Zealand, Mr Andrew Edwards, NSW Head of Healthcare, Macquarie Bank and Ms Jean Kittson, author, comedian and commentator.
The discussion was wide-ranging and included how to remove the barriers to women's progression, ensure equal opportunity and even survive menopause!
Preparation for Surgical Education and Training (SET) workshop
Connecting and engaging with NSW junior doctors and medical students came to the fore on Saturday, 9 November 2019 at the RACS NSW office, with the running of the RACS NSW Preparation for SET workshop.
30 participants interested in a career in surgery attended the day, which included sessions about 'How do I become a surgeon', 'Starting out in research', 'Getting an unaccredited position' and 'GSSE/clinical exams – do's and don'ts'.
A practical skills session with laparoscopic trainers was organised by Applied Medical for the afternoon.
Dr Toufic El-Khoury, Executive member of the RACS NSW State Committee, moderated the day supported by 11 Fellows of the College and RACS NSW staff.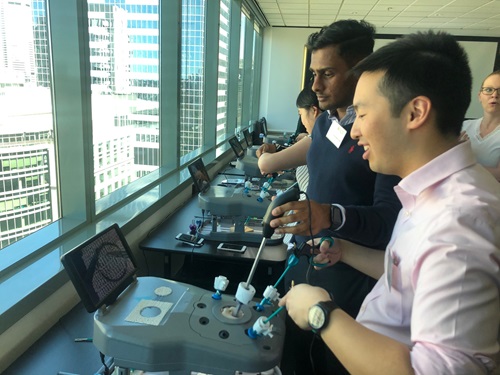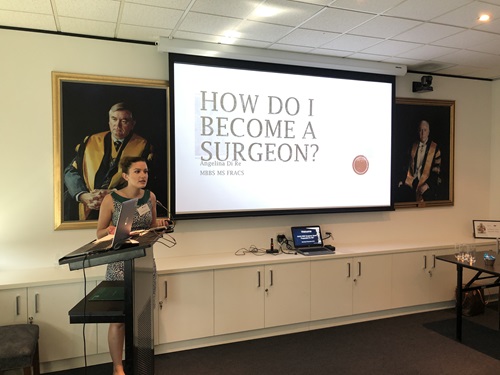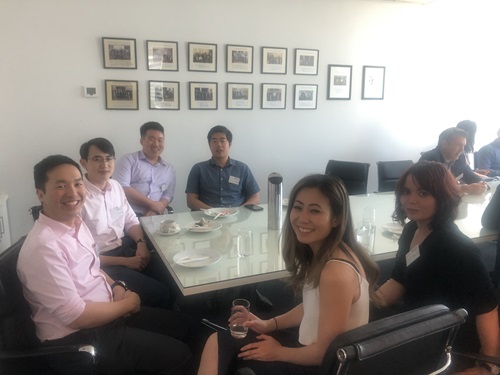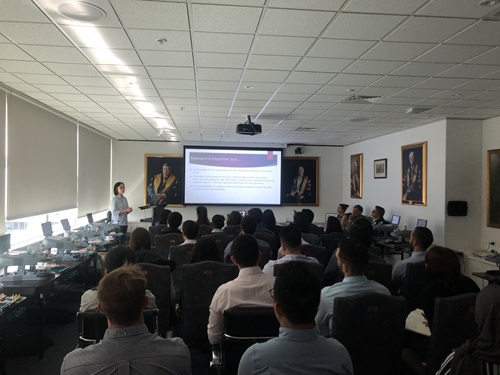 Sydney Upper Gastrointestinal Surgical Society (SUGSS) meeting
16 November 2019
Intercontinental Hotel in Double Bay, Sydney
Established over 20 years, the yearly SUGSS is the longest running general surgical subspecialty meeting in Australasia. Every year the meeting focusses on up and coming issues and invites an expert international and local faculty to create a relaxed yet informative meeting attracting a strong interest from throughout Australia and New Zealand. While the meeting is a day long, it has been combined with other events for over a decade including meetings and workshops with the ANZ Gastro-Oesophageal Surgical Society, the ANZ Metabolic and Obesity Surgical Society and the Australian Pancreatic Club.
As Upper GI surgery has become increasingly complex the meetings rotate between Upper GI, HPB and bariatric themes and aim to pick up what's new and interesting.
This year's meeting will be about the fastest growing area in bariatric surgery, the Loop Bariatric procedures. The overseas faculty will include world renowned experts in the fields, Dr WJ Lee from Taiwan who has published more randomised controlled trials in bariatric surgery than almost anyone, and Dr Dan Cottam a pioneer in loop duodenal switch procedures.
Find out more: www.sugss.com.au
Register for 2019