JDocs - Developing a Surgical Career
A workshop providing further information about JDocs, the pre-requisites for application to the Surgical Education Program and insight into the training program from a Trainee perspective.
On this page
Workshop Overview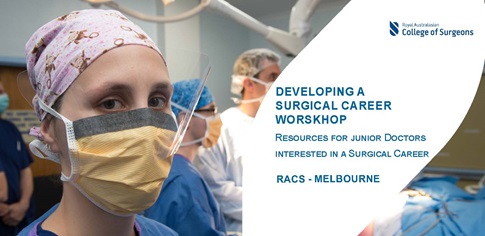 The Developing a Surgical Career Workshop, hosted by Victorian Chair Dr Patrick Lo has been designed for junior doctors and medical students with an interest in surgery. Listen to our current RACSTA representative, Dr Nicholas Lyons as he speaks about Life as a Trainee surgeon and gives you helpful advice for the application to SET.
We have confirmed a long list of fellows and trainees who will speak on different topics relevant to the SET program.
As well as providing information about the RACS SET program and its prerequisites, this workshop will also provide an opportunity to engage in a number of surgical skills stations facilitated by Fellows and Trainees. For more information about the topics covered in 2022, download (PDF 119.91KB) our flyer.
The workshop will be held in the RACS Melbourne office skills lab at 250-290 Spring Street, Melbourne.
COVID-19 disruption to College events
The Coronavirus (COVID-19) outbreak indeed created a challenge for us all in both 2020 and 2021 and unfortunately, we were unable to provide our Victorian young doctors with these very popular workshops. We are planning to hold one 'Developing a Surgical Career' workshop this year in 2022, however this workshop will be dependent on the state of Victoria's restrictions at the time of the event.