JDocs - Developing a Surgical Career
A workshop providing further information about JDocs, the pre-requisites for application to the Surgical Education Program and insight into the training program from a Trainee perspective.
On this page
COVID-19 disruption to College events
The Coronavirus (COVID-19) outbreak indeed created a challenge for us all in 2020 and unfortunately, we were unable to provide our Victorian young doctors with these very popular workshops. We are planning to hold one 'Developing a Surgical Career' workshop this year in 2021, however this workshop will be dependent on the state of Victoria's restrictions at the time of the event.
2021 workshop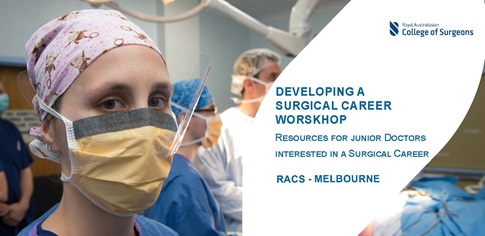 The Developing a Surgical Career workshop is open to all junior doctors who are interested in a surgical career and will be held on Saturday 18 September 2021.
The workshop will be held in the RACS Melbourne office skills lab at 250-290 Spring Street, Melbourne.
Check out our preliminary program (PDF 84.32KB).
Overview
The Developing a Surgical Career Workshop is a rewarding one day professional development workshop designed to provide information and knowledge to assist junior doctors interested in a surgical career.
As well as providing information about the RACS SET program and its prerequisites, these workshops also provide an opportunity to engage in a number of surgical skills stations facilitated by Fellows and Trainees.
Conference sponsors